Dymatize's Creatine - Product Review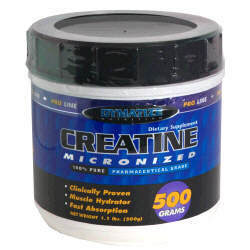 Description
Dymatize's Creatine is a 100 percent pure, faster absorbing, more efficient creatine monohydrate product. Dymatize's advanced techniques have produced an extra fine 180 microns micro-particle creatine, derived from animal free sources. Dymatize's Creatine provides quicker absorption with more total surface area for greater uptake and utilization.
Creatine has been used for years by Olympic medalists, athletes and bodybuilders to increase muscle size and energy and promote athletic training and performance. Creatine is a naturally occurring metabolite found in muscle tissue. Known as an ATP (adenosine triphospate) activator, creatine is essential for the production of ATP, the universal fuel for muscle. Creatine supplementation increases the muscle's ability to refuel quickly.
Double-blind placebo-controlled studies suggest that creatine supplementation can increase muscle mass, energy, strength, endurance and recovery. Research also suggests that creatine can enhance athletic performance. One study published in the International Journal of Sports Medicine found that creatine supplementation improved the time of intense running to exhaustion by 13 percent. The study authors conclude, "...creatine supplementation helps to prolong the time during which the maximal rate of power output could be maintained."
Pros
Dymatize's Creatine is processed to an extra fine 180 microns ensuring that its micro-particles are more quickly and efficiently absorbed in the body than regular powdered creatine. Furthermore, Dymatize analyzes each batch for purity and conformity to the strict International Molecular Formula (C4H9N3O2H20). Dymatize's Creatine is sold with a see-through container, so you can see how fine the powder really is.
The nutrients in Dymatize's Creatine have the following benefits:
ATP Activator
Increases muscle size, strength and endurance
Boosts muscle energy
Promotes athletic training and performance
Cons
No toxicity has been reported in studies with creatine. However, stomach upset, diarrhea, nausea and muscle cramping have been reported with creatine use. Powdered creatine requires large doses to ensure complete assimilation in the body. Large doses of powdered creatine is associated with side effects such as water retention. Since creatine attracts water to cells, unabsorbed creatine monohydrate can remain outside cells and cause bloating, dehydration and cramping.
Pregnant or lactating women and people with kidney disease should not supplement with creatine.
No drug interractions have been reported at this time.
Is it for you?
If you're an amateur or professional athlete, bodybuilder or fitness competitor and want an extra strength training and performance boost, Dymatize's Creatine may be for you.
However, pregnant or lactating women and people with kidney disease should not supplement with creatine.
Dosage and Directions
Some studies support creatine cycling and others do not.
Creatine loading phase, day 1 through day 5:
Take 1 heaping teaspoon 4 times daily (for body weight less than 195 lbs), 1 heaping teaspoon 5 times daily (if 195-225 lbs), or 1 heaping teaspoon 6 times daily (if greater than 225 lbs).
Creatine maintenance phase, day 6 and beyond:
Take 1 to 2 heaping teaspoons daily (all body weights).
Mix Creatine in 8 to 10 ounces of water or non-acidic juice (such as grape juice). Drink immediately. For best results, drink at least 120 ounces of water daily to avoid dehydration.
Creatine Supplement Facts


Serving Size: 5G
Servings Per Container: 100
Amount Per Serving
Daily Value
Creatine Monohydrate
5000mg
*
*percent Daily Values are based on a 2,000 calorie diet.

Ingredients: These statements have not been evaluated by the Food and Drug Administration. This product is not intended to diagnose, treat, cure or prevent any disease.
User reviews
Dymatize Builds Bigger Bodies!
Dymatize gets it right again by adding their own HPLC certified Micronized Creatine to their supplement lineup. So many companies get it wrong when it comes to bolstering the effects of creatine monohydrate. Some have even turned to less researched forms of creatine such as Ethyl-Ester and pyruvate spin-offs, and while these forms have been proven effective in some studies not all support their claims that they are indeed more effective than monohydrate. Instead of wasting your time on new and upcoming prototypes, Dymatize made their original monohydrate particles smaller for better absorption resulting in a much better surface area coverage for overall better absorption into muscle cells. Not only does this prevent water bloating and cramping effects but it gets into your system faster and more efficiently. Efficiency is key to building an outstanding physique, clearly Dymatize listens to the world of bodybuilders better than others.