Universal Nutrition's Animal Pump - Product Review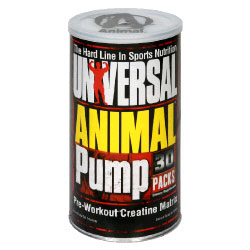 Description
Taken before your workout (pre-workout), Universal Nutrition's Animal Pump has been designed to provide you with a maximum 'Pump' during your resistance training sessions. The Pump is the term in bodybuilding used to describe a rapid influx of nutrient-rich body fluids into muscle cells. If you're at all familiar with resistance training, you know that a good Pump primes your muscles for expansion. Many bodybuilders and fitness enthusiats equate an awesome Pump with explosive muscle growth.

However important the Pump is to muscle growth, it means nothing if you don't consume the right nutrients at the right time. Animal Pump solves this dilemna and takes the guesswork out of 'Pump nutrition.' This four-part formula drives nutrients into your muscles, increases energy, enhances exercise performance, and maximizes recovery. These processes combined, further your body's capacity to build new muscle.
Pros

Animal Pump is a comprehensive and easy-to-use formula that is conveniently separated by thirty individual packets. Each packet contains all the pills you need for your workout. Animal Pump actually performs four functions…you could say that it is four formulas in one.

First, this supplement is founded upon an advanced creatine matrix that includes three separate forms of creatine [Magnesium Creatine Chelate (MCC), Tricreatine Malate (TCM), Creatine Ethyl Ester (CEE)]. Secondly, it affords users a Nitric Oxide Complex - ensuring that a maximum pump is acheived. Next, as it is designed for pre-workout use, Universal Nutrition adds their Energy Rush Complex for increasing and sustaining energy during your grueling workout. And last, but not least, is their Antioxidant Complex. Antioxidants are critical for the recovery process, as well as for supporting overall health and vitality.
Cons
Many users complain about the number and size of the pills (large) that must be taken. Some people have a hard time swallowing all the contents of each packet. Foul smelling urine and nausea (esp. when consumed on an empty stomach) may also be a problem.

Of Note: It is generally recognized that individuals suffering from genital herpes should avoid products with large amounts of arginine. Arginine may promote viral growth and replication.
Is it for you?
If swallowing a few large pills doesn't bother you and if cost is of no concern, Animal Pump provides a legitmate means for achieving the benefits of several supplements in one formula – without the hassle. Animal Pump is perfect for individuals involved in strength training, persons wishing to gain muscle mass, and athletes involved in sports requiring short bursts of energy. That being said, Animal Pump is probably not for the casual gym-goer (3 – 4 times per week).
Animal Pump Supplement Facts

Serving Size: 1 Pack
Servings Per Container: 30

---

Amount
Per Serving
Daily Value

---

Vitamin C (as Ascorbic Acid)
60 mg
100%
Selenium (as Selenium Selenate)

100 mcg
143%

---

Foundational Creatine Matrix
3,000 mg
*
No Blast Complex
2,000 mg
*
Energy Rush Complex
500 mg
*
Antioxidant Complex
700 mg
*
Pump Transport Complex
1,000 mg
*
*These statements have not been evaluated by the Food and Drug Administration. This product is not intended to diagnose, treat, cure or prevent any disease.
User reviews
PUMPED UP AND READY TO GO
great before a workout.
more energy, no crash and no soreness the next day!
Animal Pump
nice recovery, extreme pump, less soreness.
It Pumps !!!
Its a great product to use .
Give it a try, really helps
This product really fascinates me as it really gives satisfactory results and it is wallet friendly.
Works
I have to say this product does work quite well. Most products like this work in about the same but they must have something extra in this that just makes the gain seem higher. Bit of an acquired taste but if you're using it you should already be used to drinking or eating things with weird tastes.