Universal Nutrition's Animal Pak - Product Review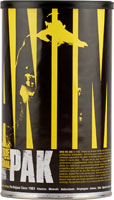 Description
Universal Nutrition's Animal Pak is the world's #1 selling training pak for over twenty three years. The scientifically balanced packets contain 55 nutrients including performance optimizers, amino acids, essential fatty acids, digestive enzymes, vitamins and minerals. Animal Pak is specially formulated for athletes and bodybuilders to fuel workouts and promote maximum muscle gain, recovery and performance.
Animal Pak's performance optimizers include ginseng, an adaptogen that can combat stress, boost mood, increase energy, stimulate immunity and improve well-being. Smilax (sarsaparilla) contains saponins called sarsasapogenin, which may support human hormone action. Inosine is a purine nucleoside, a basic component in cells that forms the building blocks of DNA, ATP and RNA. Carnitine is a natural compound produced in the body from the essential amino acids methionine and lysine. It enhances cellular energy production by using fat as energy and helps preserve muscle glycogen (stored energy). Chromium picolinate helps maintain normal blood sugar and insulin levels and can reduce body fat and promote weight loss.
The performance optimizers also include choline and phosphatidylcholine, precursors of the neurotransmitter acetylcholine. Acetycholine is released in the brain and nerves of the muscles and plays a role in energy, memory, learning and muscle contractions. Bovine colostrum (a protein found in mother's milk) is rich in immune factors secretory IgA and IGF-1 that boost immunity and wellness. Shark cartilage is a natural source of specialized molecules called glycosaminoglycans (GAGs). GAGs are found in joint collagen and stimulate the production of synovial fluid in the joints, helping cushion and lubricate joints.
Animal Pak's eight amino acids (protein building blocks) promote positive nitrogen retention (stored muscle protein). Essential fatty acids linoleic acid and oleic acid support metabolism, mood and immunity. Digestive enzymes such as papain (derived from papayas) help improve protein absorption. Furthermore, the essential vitamins and minerals help support daily nutritional requirements.
Pros

Since 1984, Animal Pak has been the world's #1 selling training pak. Specially formulated for athletes and bodybuilders it contains over 55 nutrients. Animal Pak has no sugar, starch, artificial preservatives or colors.
Animal Pak has the following benefits:
55 natural ingredients fuel workouts
Promotes muscle gain
Supports positive nitrogen balance
Enhances recovery and performance
Cons
Taking L-carnitine has been shown to be safe. Although side effects are uncommon, nausea, vomiting, diarrhea, body odor and stomach upset have been reported.
Individuals supplementing with large amounts of choline (over 1,000 mg daily) may experience a fishy body odor. With larger amounts of choline (several grams daily), certain people may experience abdominal discomfort, diarrhea or nausea.
Large amounts of arginine can lead to diarrhea, weakness and nausea. Arginine may promote viral growth and replication, such as genital herpes.
Smilax (sarsaparilla) may cause stomach irritation and temporary kidney irritation.
Certain people may experience mild GI problems including nausea and diarrhea with shark cartilage use.
Pregnant or lactating women and people with pre-existing medical conditions or taking medication should not supplement with Animal Pak without consulting a physician.
Be aware that some drugs may interact with Animal Pak including:
Albuterol
Alendronate
Allolpurinol
Amiloride
Amphotericin B
Azthromycin
Advair Diskus
Albuterol
Aluminum Hydroxide
Anticonvulsants
AZT
Bile Acid Sequestrants
Bismuth subsalicylate
Caffeine
Calcitonin
Calcium Acetate
Ciprofloxacin
Cisplatin
Colestipol
Cycloserine
Chemotherapy
Cyclophosphamide
Cimetidine
Cyclosporine
Dapsone
Digoxin
Docusate
Doxycycline
Doxorubicin
Dicloflenac
Docetaxel
Erythromycin
Estrogens Combined
Epinephrine
Famotidine
Felopidine
Fentanyl
Fluorouracil
Flurbiprofen
Gabapentin
Gemifloxacin
Genatmicin
Glipizide
Glyuburide
Gimepride
Hydroxychloroquine
Indapamide
Indomethacin
Inhaled Corticosteroids
Insulin
Isoniazid
Lactase
Levofloxacin
Loop Diuretics
Medroxyprogesterone
Metformin
Minocycline
Misoprostol
Mixed amphetamines
Methotrexate
Mineral Oil
Minocylcine
Nadolol
Neomycin
Nitrofurantoin
Nizatidine
Ofloxacin
Omeprazone
Oral Contraceptives
Oral Corticosteroids
Paclitaxel
Phenobarbital
Quinolones
Quinidine
Risedronate
Sertraline
Sodium Fluoride
Sotalol
Sucralfate
Sulfamethoxazole
Sotalol
Spironolactone
Sulfasalazine
Tetracycline
Theophylline/aminophylline
Thiazide diuretics
Tobramycin
Triamterene
Trimethoprim
Thyroid hormones
Valproic Acid
Verapamil
Warfarin
Is it for you?
If you're looking for the world's #1 best-selling training pak to fuel workouts and promote muscle gain and recovery, Animal Pak is for you.
However, pregnant or lactating women and people with pre-existing medical conditions or taking medication should not supplement with Animal Pak without consulting a physician.
Dosage and Directions
Take one packet 30 minutes after the meal prior to your workout. Take with plenty of water.
For competitions and intense workout sessions, take two packets daily.
Universal Nutrition's Animal Pak Nutrition Facts

Serving Size: 2 paks
Servings Per Container: 22

---

Amount Per Serving
Daily Value

---

Calories
16
*
Total Carbohydrate
1 g
< 1%
Protein
3 g
6%
Biotin
300 mcg
100%
Riboflavin
76 mg
4471%
Folic Acid
400 mcg
100%
Vitamin B12 (as Cyanocobalamin)
6 mcg
100%
Siberian Ginseng (Root)
2 g
*
Vitamin C (as Ascorbic Acid)
1 g
1667%
Niacin (as Niacinamide)
82 mg
410%
Papain
64 mg
*
Phosphorus (as Calcium Phosphate)
228 mg
23%
Iodine (from Kelp)
150 mcg
100%
Pantothenic Acid (as Calcium Pantothenate)
76 mg
760%
Chromium (as Picolinate)
6 mcg
5%
Chromium Picolinate
50 mcg
*
Shark Cartilage
1 g
*
Para-Aminobenzoic Acid (PABA)
400 mg
*
Phosphatidylcholine
200 mg
*
Pepsin
64 mg
*
Magnesium (as Oxide)
133 mg
33%
Manganese (as Sulfate)
11 mg
550%
Zinc (as Oxide)
30 mg
200%
Vitamin D (as Ergocalciferol)
680 IU
170%
Mycozyme
64 mg
*
Coenzyme B12
10 mg
*
Pancreatin
700 mg
*
Essential Fatty Acid Complex
*
Colostrum (Bovine)
25 mg
*
Carnitine (as L-Carnitine)
25 mg
*
Vitamin A (as Acetate & 66% as B-Carotene)
9,900 IU
198%
Vitamin E (as D-A Tocopheryl Acetate)
300 IU
1000%
Calcium (as Citrate, Carbonate)
2 g
200%
Selenium (as Selenite)
50 mcg
71%
Copper (as Sulfate)
600 mcg
30%
Potassium (as Sulfate)
200 mg
6%
Amino Acid Blend
*
Lysine (from Lactalbumin)
300 mg
*
Methionine (from Lactalbumin)
500 mg
*
Leucine (from Lactalbumin)
100 mg
*
Valine (from Lactalbumin)
760 mg
*
Threonine (from Lactalbumin)
48 mg
*
Glutamic Acid (from Lactalbumin)
700 mg
*
Phenylalanine (from Lactalbumin)
560 mg
*
Arginine (as L-Arginine)
2 g
*
Oriental Ginseng (Root)
250 mg
*
Smilax Officinalis (Root)
500 mg
*
Protogen A (as Thioctic Acid)
200 mcg
*
Inosine (as Hypoxanthine Riboside)
500 mg
*
Pyridoxine A-Ketoglutarate (PAK)
200 mg
*
Coenzyme A
20 mg
*
Argentine Liver (Bovine)
4 g
*
Choline Complex
1 g
*
Bioflavonoids (Citrus)
1 g
*
Ox Bile (Bovine)
120 mg
*
*percent Daily Values are based on a 2,000 calorie diet.
*These statements have not been evaluated by the Food and Drug Administration. This product is not intended to diagnose, treat, cure or prevent any disease.