Ultimate Nutrition's Coenzyme Q10 - Product Review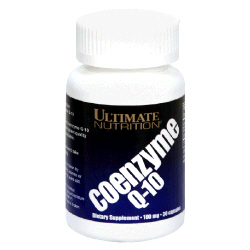 Description
Ultimate Nutrition provides 100 percent highest quality Coenzyme Q10. Coenzyme Q10 (CoQ10) is a naturally occurring nutrient that boosts cellular energy production in the mitochondria, the cell's energy powerhouse. CoQ10 enhances energy production and helps form the fuel the body runs on - ATP (adenosine triphosophate). CoQ10 is well-known as an energy nutrient that is used to support all body functions that require high levels of energy.
CoQ10 is also a powerful antioxidant that supports the immune system and helps protect cells from free radical damage. Free radicals are toxic byproducts of metabolic functions or are introduced from the environment. Free radicals cause damage to cells and tissues, which is associated with cancer, heart disease, and age-related diseases. CoQ10 neutralizes harmful free radicals and protects against inflammation and chronic diseases.
Independent studies suggest that CoQ10 may help prevent and treat heart disease. In one study, researchers administered CoQ10 supplements to patients within 3 days of a heart attack. They found that the patients who received CoQ10 had a reduced risk of another heart attack and chest pain and were less likely to die of heart disease. Other preliminary studies suggest that CoQ10 supplementation may have a beneficial effect on congestive heart failure (CHF), high blood pressure, high cholesterol, diabetes, breast cancer, gum disease and exercise performance.
Taking a daily CoQ10 supplement, such as Ultimate Nutrition's Coenzyme Q-10, can boost your body's defenses against free radicals, support heart health and enhance energy and athletic performance.
Pros
CoQ10 deficiency is often caused from production problems in the body rather than dietary insufficiency. People with heart problems, high blood pressure, diabetes, AIDS, PKU (phenylketonuria), gum inflammation and morbid obesity often have low levels of CoQ10. Ultimate Nutrition provides an effective, convenient way to benefit from an optimum daily dose of CoQ10.
One study shows that certain cholesterol-lowering drugs called statins lower CoQ10 levels in individuals with high cholesterol. The findings suggest that CoQ10 supplementation may be useful for patients receiving statin drug treatment. Other studies show that CoQ10 may help reduce toxic effects on the heart caused by the chemotherapy drugs daunorubicin and doxorubicin. CoQ10 may also enhance the effectiveness of certain blood pressure medications.
Studies have found that CoQ10 has numerous benefits including:
Improves free radical defense
Enhances immune function
Supports heart health
Boosts energy
Helps manage high blood pressure
Improves blood sugar
Promotes athletic performance
Treats gum disease
Cons
Some mild side effects are associated with CoQ10 including nausea, diarrhea and stomach upset. CoQ10 is not recommended for pregnant and nursing women.
Be aware that some drugs may interact with CoQ10 including:
Daunorubicin and Doxorubicin
Blood pressure medications
Diabetes medications
Statins
Timolol
Warfarin

Is it for you?
Studies suggest that CoQ10 is an effective therapeutic agent. If you want to protect yourself from free radical damage, enhance immunity, support heart health, boost energy, or treat gum disease, Ultimate Nutrition's Coenzyme Q-10 is worth considering. This supplement can also be beneficial for athletes, body builders and avid gym-goers who want to enhance their physical performance. However, pregnant or nursing women should not supplement with Ultimate Nutrition's Coenzyme Q-10.
Dosage and Directions
Take 1 capsule daily with a meal. Since CoQ10 is fat-soluble, this supplement should be taken with a meal containing fat for optimal absorption. CoQ10 levels will reach maximum blood levels after 3 weeks of taking a regular, daily dose. The beneficial effects of CoQ10 will be observed after taking the dose for 3 weeks. Keep tightly closed in a cool, dry place to maintain freshness.
Coenzyme Q10 Supplement Facts


Serving Size: 1 Capsule
Servings Per Container: 1
Amount Per Serving
Daily Value
Coenzyme Q10
100 mg
*
*percent Daily Values are based on a 2,000 calorie diet.

Ingredients: Other Ingredients: Cellulose, Dicalcium Phosphate, Gelatin and Stearic Acid.