Twinlab's Colon Care - Product Review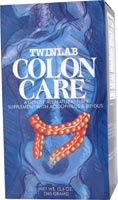 Description
Twinlab's Colon Care is a gentle, all-natural formula designed to promote a healthy digestive tract safely and effectively. This supplement contains proven colon-enhancing ingredients psyllium fiber, barley-malt extract and probiotic bacteria. Twinlab's synergistic blend of nutrients work to keep the gastrointestinal (GI) system functioning smoothly and maintain digestive health.
Psyllium is a well-known natural fiber used for centuries in folk medicine to treat gastrointestinal problems such as constipation and hemorrhoids. Studies show that psyllium not only relieves constipation but also lowers LDL (bad) cholesterol levels. Furthermore, psyllium reduces symptoms of ulcerative colitis and is helpful for weight management.
Barley malt is a natural grain extract that promotes the healthful intestinal tract bacteria, Lactobacillus acidophilus (acidophilus) and Bidfidobacteria longus (bifidus). Both acidophilus and bifidus are classified as probiotic beneficial bacteria that help maintain a normal balance of healthy intestinal flora (bacteria). Research suggests that probiotics support digestion and immunity, while preventing the growth of harmful bacteria.
Taking a supplement such as Twinlab's Colon Care can help you maintain a healthy and optimally functioning digestive tract.
Pros
Twinlab states that the acidophilus and bifidus in Colon Care are the highest quality and stability. Colon Care includes specially selected, viable probiotic strains that are resistant to stomach acid, to survive passage through the Gi tract and maximally function in the colon. Each serving of Colon Care provides 1 billion live acidophilus and 1 billion live bifidus cells at the time of formulation.
Studies have found that the nutrients in Colon Care have numerous benefits including:
Maintains colon health
Promotes a healthy digestive tract
Aids in digestion and processing waste
Supports immune system function
Helpful for weight management
Safe and effective
Cons
For some consumers, Colon Care can become a pricey solution for long-term GI problems (such as chronic constipation). The recommended dosage is two tablespoonfuls (one serving) daily. Since there are 16 servings per container, the product lasts 16 days. However, Colon Care is a worthwhile option for those who don't mind paying a little more for a natural agent that safely and effectively supports a healthy digestive tract and promotes colon health.
Since psyllium is a fiber, it's important to drink plenty of water when taking psyllium. People with bowl obstruction or diabetics who have difficulty regulating their blood sugar should not take psyllium.
Probiotics are considered safe and are generally well tolerated. The most common side effects include mild stomach upset.
Be aware that some drugs may interact with the nutrients in Colon Care including:
Lithium
Mesalamine
Orlistat
Simvastatin
Statins
Sulfasalazine
Is it for you?
If you want to support and maintain a healthy and optimally functioning digestive tract and promote colon health, Twinlab's Colon Care is for you. However, people with bowl obstruction or diabetics who have difficulty regulating their blood sugar should not take Colon Care.
Twinlab Colon Care Supplement Facts

Serving Size: 2 Tablespoon
Servings per Container: 16

---

Amount
Per Serving
%Daily Value

---

Calories
80
*
Total Carbohydrates
20 g
7%
Dietary Fiber
4g
16%
Sugars
9g
*
Protein
1g
2%
Vitamin C (from calcium ascorbate)
250 mg
417%
Calcium (from calcium ascorbate)
43 mg
4%
Iron
0.6 mg
3%
Phosphorous
35 mg
4%
Potassium
125 mg
4%
Barley Malt Seed Extract
17000 mg
*
Psyllium Seed Husk
5000 mg
*
Lactobacillus acidophilus (containing 1 billion live cells at formulation)
107 mg
*
Bifidobacterium longum (containing 1 billion live cells at formulation)
136 mg
*
Sodium
15 mg
1%
Psyllium Seed Husk
5000 mg
*
Niacin
1 mg
5%
*Daily value not established.
Ingredients: Other Ingredients: Silica
Dosage and Directions
Take one serving (two tablespoons) daily. Add two rounded tablespoons (22.9 grams) to eight fluid ounces of water. Stir and serve. Or use as directed by your healthcare professional. Since Colon Care contains psyllium fiber, drink additional water throughout the day. Store in a cool, dry place. Refrigeration is not required.
User reviews
Colon Care is Good for Constipation
One of my greatest problem is constipation and I occasionally take this kind of colon cleansing psyllium fiber that really helps me a lot to have soft stool. Taking this colon care is really effective for me not to feel constipated. What is also good is this one helps me with my weight. I can feel that my belly is getting slim. Though, taking this psyllium fiber does take a lot of fluid intake for absorption.
And I know that if you want to detoxify, the first step is colon cleansing and this product is helpful in detoxifying our colon.