Twinlab's Calcium Lactate Caps - Product Review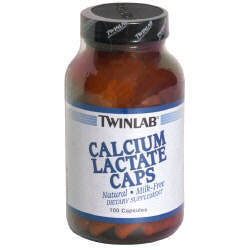 Description
Twinlab's Calcium Lactate Caps is specially formulated to maximize absorption of calcium. Calcium is the most important and abundant mineral in our body. This essential mineral comprises nearly two percent of the average adult's body weight. Over 99 percent of calcium is stored in our bones and teeth, while the remaining one percent is found in bodily fluids, tissues and cells. In addition to promoting healthy, strong bones, calcium is beneficial for normal muscle and nerve function. Calcium is also important for fat mobilization, helping to metabolize fat and decrease body fat.
Twinlab's innovative formula includes calcium lactate, a calcium salt made by the action of lactic acid on calcium carbonate. Calcium lactate is naturally formed in aged cheeses. The calcium lactate in this supplement is produced by a natural fermentation process. The combination of calcium and lactate helps provide easier assimilation and usage. Calcium lactate can be absorbed at various pHs (pH is a measure of acidity or alkalinity) in the body and does not need to be taken with food for absorption. Calcium Lactate Caps is well tolerated by most highly allergic individuals.
According to the National Institutes of Health, many people consume less than half the amount of calcium needed for healthy bones. Furthermore, less than 10 percent of women have adequate dietary calcium intakes. Dietary sources of calcium include dairy products, sardines, tofu and green leafy vegetables. The lack of dietary calcium increases the risk of osteoporosis, a brittle bone disease common in the elderly and postmenopausal women. Other conditions associated with calcium deficiency include rickets (in children), osteomalacia, pancreatic insufficiency and a vegan diet (a vegetarian diet that also avoids dairy and eggs).
Taking a daily calcium supplement, such Twinlab's Calcium Lactate Caps, supplies the necessary nutrients to strengthen bone, prevent deficiencies and protect against future disease.
Pros

A great advantage of Twinlab's Calcium Lactate Caps is that it provides a form of calcium that is readily absorbed by the body. Furthermore, it does not need to be taken with food for absorption and is well tolerated by most highly allergic people. Supplementation with Calcium Lactate Caps can be an important addition to the diet for achieving healthy bone mass and preventing deficiency-related bone loss. The health claim that calcium protects bone health is approved by the FDA.
Studies have found that calcium has numerous benefits including:
Improves and maintains bone health
Supports bone mineral metabolism and bone growth
Increases bone mass in children and helps prevent rickets
Slows bone loss in adults and helps prevent osteoporosis
Reduces the risk of bone fractures in elderly adults
Prevents tooth and gum disease and tooth loss
Relieves symptoms of PMS (pre-menstrual syndrome)
Protects against preeclamspia (pregnancy-induced high blood pressure)
Reduces the risk of colon, breast and prostate cancers
Helps prevent obesity
Helps prevent muscle cramps
Helps prevent insomnia
Cons
There are few cons in considering adding a daily calcium supplement to your diet. Most experts agree that a daily calcium supplement like Twinlab's Calcium Lactate Caps can be a valuable addition to the diet. However, keep in mind that this calcium supplement is not a cure-all for individuals with calcium-deficient diets or bone disease. It is a dietary supplement that should be taken in addition to a healthy diet and regular exercise, to help maintain overall bone health and prevent deficiency-related bone loss.
Experts recommend supplementing with 1,000 to 1,200 mg calcium per day.
A high intake of calcium (over 2,500 mg daily) may cause constipation, bloating or an upset stomach in certain people. High intakes may also cause
prolonged vomiting, kidney toxicity, kidney stones, irregular heartbeat, loss of appetite, mental confusion, lethargy, and mineral imbalances (lack of zinc or iron absorption).
Be aware that some drugs may interact with calcium including:
Alendronate (osteoporosis medication)
Antacids, Aluminum-containing
Blood pressure medications
Cholesterol-lowering medications
Corticosteroids
Digoxin (irregular heartbeat medication)
Diuretics
Estrogens
Gentamicin (antibiotic)
Metformin (medication used to treat type II diabetes)
Quinolone antibiotics
Seizure medications
Tetracycline
Is it for you?
According to experts, most of us could benefit from taking a daily calcium supplement like Twinlab's Calcium Lactate Caps. Nutritional support with this calcium supplement can be especially beneficial for those at risk for calcium deficiency. For just a few cents a day, you can significantly contribute to your bone health by taking this high quality calcium supplement. However, people with hyperparathyroidism, chronic kidney disease, kidney stones or prostate cancer should not supplement with calcium without consulting a physician.

Dosage and Directions
Take 2 capsules daily with water, preferably in the morning and evening. May take a dose at bedtime to provide nutritional support for tense muscles and insomnia. Keep tightly closed in a cool, dry place.
Calcium Lactate Caps Supplement Facts


Serving Size: 2 capsules
Servings Per Container: 50
Amount Per Serving
Daily Value
Calcium (from Calcium Lactate Anhydrous)
200 mg
20%
Calcium Lactate
1,480 mg
*
*percent Daily Values are based on a 2,000 calorie diet.

*These statements have not been evaluated by the Food and Drug Administration. This product is not intended to diagnose, treat, cure or prevent any disease.