Twinlab's Calcium Citrate Caps - Product Review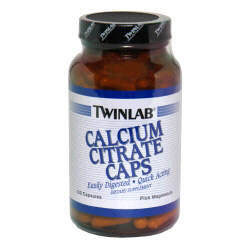 Description
Twinlab's Calcium Lactate Caps provides the chelated form of calcium with a precise amount of magnesium to maximize absorption. Calcium is the most important and abundant mineral in our body. This essential mineral comprises nearly two percent of the average adult's body weight. Over 99 percent of calcium is stored in our bones and teeth, while the remaining one percent is found in bodily fluids, tissues and cells. Calcium is important for bone health, as well as normal muscle and nerve function and fat mobilization.
By promoting healthy, strong bones, calcium helps to prevent osteoporosis and ensure a fracture-free future. Osteoporosis is a bone disease that affects over 8 million American women and leads to 1.5 million fractures a year (as well as spinal deformities).
Twinlab's calcium is bonded with natural citric acid, creating a powerfully effective chelated form of calcium. Research suggests that calcium citrate is the most easily absorbed form of calcium in the body. Calcium citrate is also less likely to cause constipation, a possible side effect of certain forms of calcium. For these reasons, calcium citrate is recommended by many health experts.
Twinlab's innovative formula also includes magnesium, which works synergistically together with calcium citrate to build strong bones. Magnesium helps regulate calcium throughout the body and in bone. It also regulates hormones involved in bone health, such as vitamin D and parathyroid hormone. Along with calcium, magnesium maintains normal heart function, blood pressure and nerve transmission.
Taking a daily calcium and magnesium supplement, such Twinlab's Calcium Citrate Caps, supplies the necessary nutrients to keep bones strong and prevent bone problems such as osteoporosis and fractures.
Pros

Twinlab's formula effectively provides calcium and magnesium in a capsule form that is readily absorbed by the body. If calcium and magnesium were in tablet form, it would require binders to hold them together. These binders often don't completely dissolve in the stomach, so that calcium and magnesium may not be completely absorbed. Twinlab's Calcium Citrate Caps are more easily digested and easier to swallow than tablets, and free of most common allergens.
Studies have found that calcium and magnesium have numerous benefits including:
Improves and maintains bone health
Supports bone mineral metabolism and bone growth
Increases bone mass in children and helps prevent rickets
Slows bone loss in adults and helps prevent osteoporosis
Reduces the risk of bone fractures
Prevents tooth and gum disease and tooth loss
Relieves symptoms of PMS (pre-menstrual syndrome)
Protects against preeclamspia (pregnancy-induced high blood pressure)
Reduces the risk of colon, breast and prostate cancers
Prevents obesity, muscle cramps and insomnia
Maintains normal heart function, blood pressure and nerve transmission
Cons
High intakes of calcium (over 2,500 mg daily) over an extended duration may cause constipation, bloating or an upset stomach, prolonged vomiting, kidney toxicity, kidney stones, irregular heartbeat, loss of appetite, mental confusion, lethargy, and mineral imbalances (lack of zinc or iron absorption). Individuals at risk for calcium overdose include people with prostate cancer, kidney ailments or hyperparathyroidism. Due to these increased risks, calcium supplementation is not recommended in these patients.
Twinlab's Calcium Citrate Caps contain magnesium oxide, the most commonly used but least absorbed form of magnesium. High doses of magnesium (over 350 mg daily), which may be added to laxatives and antacids, can promote adverse effects such as diarrhea, mental status changes, nausea, muscle weakness, difficulty breathing, extremely low blood pressure and irregular heartbeat. Individuals at risk for magnesium overdose include people with heart or kidney disease and the elderly.
Be aware that some drugs may interact with calcium and magnesium including:
Alendronate and tiludronate (osteoporosis medication)
Antacids
Antibiotics
Blood pressure medications
Cholesterol-lowering medications
Corticosteroids
Diabetic Medications
Digoxin (irregular heartbeat medication)
Diuretics
Estrogens
Gentamicin (antibiotic)
Laxatives
Levothyroxine
Metformin (medication used to treat type II diabetes)
Penicillamine
Quinolone antibiotics
Seizure medications
Is it for you?
The FDA has approved the health claim that calcium protects bone health. So if you wish to keep your bones strong, prevent osteoporosis and lower your fracture risk, Twinlab's Calcium Citrate Caps is worth considering. Or, if you're an athlete who frequently gets sports-related muscle cramps, this supplement may offer relief. However, elderly people or individuals with hyperparathyroidism, chronic kidney disease, kidney stones, heart disease or prostate cancer should not take this supplement without consulting a physician.

Dosage and Directions
Take 2 capsules daily with water, preferably with a meal. May take a dose at bedtime to provide nutritional support for tense muscles and insomnia. Keep tightly closed in a cool, dry place.
Calcium Citrate Caps Supplement Facts


Serving Size: 2 capsules
Servings Per Container: 75
Amount Per Serving
Daily Value
Calcium (from Tricalcium Citrate)
300 mg
30%
Magnesium (from magnesium oxide)
150 mg
38%
*percent Daily Values are based on a 2,000 calorie diet.

*These statements have not been evaluated by the Food and Drug Administration. This product is not intended to diagnose, treat, cure or prevent any disease.
User reviews
A History of Bone Issues
There is a history in my family of osteoporosis. My great grandmother had it, my grandmother has the beginning of it and my mother and I have taken steps to reduce our risks. I suggested we went searching for some calcium supplements that would help our bone strength and health. We found Twinlab's Calcium Citrate Caps and decided to try it. It looked very promising and when we began taking it, we noticed a change in our bones. We didn't hear our bones crack and complain, my mother's bones didn't ache as much, and my personal bone density improved. I highly recommend these to anyone who is looking to improve their bone health.
Could be better
What i don't like about these caps: these gelcaps get stuck in your windpipe easy, so only take 1 cap at a time. Every time i take these they hurt all the way down to the stomach and they stick together. I think maybe opening the caps and pouring the powder in a drink would be better. Keep in mind also thet one cap only provides 30% of your daily calcium value, so I have to take 3 of them a day.