Twinlab's Calcium 500 Tabs - Product Review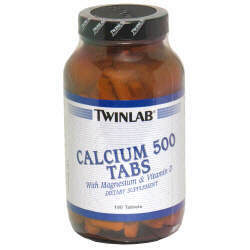 Description
Twinlab's Calcium 500 Tabs provides an economical, high potency calcium formula. Calcium is the most important and abundant mineral in our body. This essential mineral comprises nearly two percent of the average adult's body weight. Over 99 percent of calcium is stored in our bones and teeth, while the remaining one percent is found in bodily fluids, tissues and cells. In addition to promoting healthy, strong bones, calcium is beneficial for normal muscle and nerve function. Calcium is also important for fat mobilization, helping to metabolize fat and decrease body fat.
In addition to calcium, Twinlab's proprietary blend of ingredients includes vitamin D and magnesium, two well-known nutrients that support calcium absorption and bone health. Vitamin D helps maintain blood levels of calcium. For this reason, experts recommend including vitamin D along with calcium supplementation.
Studies show that many people have calcium, vitamin D and magnesium-deficient diets. Furthermore, less than 10 percent of women have adequate dietary calcium intakes. Dietary sources of calcium include dairy products, sardines, tofu and green leafy vegetables. The lack of dietary calcium increases the risk of osteoporosis, a brittle bone disease common in the elderly and postmenopausal women. Other conditions associated with calcium deficiency include rickets (in children), osteomalacia, pancreatic insufficiency and a vegan diet (a vegetarian diet that also avoids dairy and eggs).
Taking a daily calcium supplement, such Twinlab's Calcium 500 Tabs, supplies the necessary nutrients to strengthen bone, prevent deficiencies and protect against future disease.
Pros
Supplementation with Twinlab's Calcium 500 Tabs can be an important addition to the diet for achieving healthy bone mass and preventing deficiency-related bone loss. The health claim that calcium protects bone health is approved by the FDA.
Studies have found that the nutrients in Twinlab's Calcium 500 Tabs have numerous benefits including:
Improves and maintains bone health
Supports bone mineral metabolism and bone growth
Increases bone mass in children and helps prevent rickets
Slows bone loss in adults and helps prevent osteoporosis
Reduces the risk of bone fractures in elderly adults
Prevents tooth and gum disease and tooth loss
Relieves symptoms of PMS (pre-menstrual syndrome)
Protects against preeclamspia (pregnancy-induced high blood pressure)
Reduces the risk of colon, breast and prostate cancers
Helps prevent obesity
Helps prevent muscle cramps
Helps prevent insomnia
Cons
Although experts agree that calcium protects bone health, this supplement is not an instant remedy for people with bone disease or a calcium-deficient diet. Twinlab's Calcium 500 Tabs should be taken along with a healthy diet and regular exercise, to help maintain overall bone health and prevent deficiency-related bone loss.
Experts recommend supplementing with 1,000 to 1,200 mg calcium per day.
A high intake of calcium (over 2,500 mg daily) may cause constipation, bloating or an upset stomach in certain people. High intakes may also cause
prolonged vomiting, kidney toxicity, kidney stones, irregular heartbeat, loss of appetite, mental confusion, lethargy, and mineral imbalances (lack of zinc or iron absorption).
Be aware that some drugs may interact with calcium including:
Alendronate (osteoporosis medication)
Antacids, Aluminum-containing
Blood pressure medications
Cholesterol-lowering medications
Corticosteroids
Digoxin (irregular heartbeat medication)
Diuretics
Estrogens
Gentamicin (antibiotic)
Metformin (medication used to treat type II diabetes)
Quinolone antibiotics
Seizure medications
Tetracycline
Is it for you?
According to experts, most of us could benefit from taking a daily calcium supplement like Twinlab's Calcium 500 Tabs. Nutritional support with this calcium supplement can be especially beneficial for those at risk for calcium deficiency. For just a few cents a day, you can significantly contribute to your bone health by taking this high quality calcium supplement. However, people with hyperparathyroidism, chronic kidney disease, kidney stones or prostate cancer should not supplement with calcium without consulting a physician.

Twinlab's Calcium 500 Nutrition Facts

Serving Size: 1 tablet
Servings Per Container: 180

---

Amount Per Serving
Daily Value

---

Calcium (from Calcium Carbonate)
500 mg
50%
Magnesium (from Magnesium Oxide)
250 mg
63%
Vitamin D (from Cholecalciferol)
200 iu
50%
*percent Daily Values are based on a 2,000 calorie diet.
*These statements have not been evaluated by the Food and Drug Administration. This product is not intended to diagnose, treat, cure or prevent any disease.
Dosage and Directions
Take 2 tablets daily with water, preferably one after morning and evening meals. May also take a dose at bedtime, instead of after an evening meal, to provide nutritional support for tense muscles and insomnia.
User reviews
Can't beat it for price / performance
This budget calcium supplement coming from an independent label does what it says on the jar. If you suffer from cracked or split nails when you do the easiest of menial tasks, or when you don't feel your teeth are squeaky clean after brushing, you could benefit from a calcium supplement. I seem to have paid a little more than some of the other reviewers here, but still felt it was a bargain overall.
Thanks to Calcium 500
I am very thankful for Calcium 500 capsules, I'm lactose intolerant so everytime I have gone into the doctor my blood work came back with low calcium. I decided to start taking Calcium supplements which have had brought up my levels back to normal. I don't have to worry anymore about my bone health, and the constant muscle cramps I had when my calcium was low. So I would definitely recommend taking Calcium supplements they can only improve your health!
Great Calcium
My auntie have osteoporosis. For over 2 years she spent a lot of money on what she thought was superior calcium from the health food store. She have a new doctor and he told her it was not necessary to spend so much money. She have taken Twin Lab calcium for almost a year and her recent blood work indicated that this calcium is being absorbed excellently in her body. This calcium is a very good value, easily and effectively absorbed.
Calcium to help cure insomnia
I was having trouble sleeping so I asked my doctor if there was something other than sleep aids that I could take. To my surprise he recommended Calcium. I had never heard of Calcium helping with insomnia before! It has definitely helped. I sleep much better now. This is a good thing to try before reaching for a sleep aid.
These are very good
Very good calcium tablets, not much more to say, if you need calcium then get these.