Twinlab's C-1000 Caps - Product Review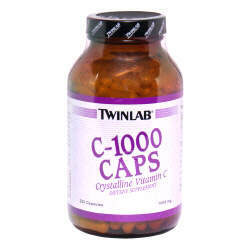 Description
Twinlab's C-1000 Caps provides an economical, high potency vitamin C formula. Vitamin C, or ascorbic acid, is one of the most important vitamins in the body. This water-soluble vitamin supports the immune system and helps protect your cells from free radical damage. Free radicals are toxic byproducts of metabolic functions or are introduced from the environment. Some environmental sources of free radicals include ionizing radiation (from X-rays, sun exposure and industrial pollution), ozone, automobile exhaust, heavy metals, alcohol, and chemicals in food, water and air. Free radicals cause damage to cells and tissues, which is associated with cancer, heart disease, and age-related diseases. Antioxidants such as vitamin C neutralize harmful free radicals and help protect your body from premature aging, disease and decay.
Vitamin C promotes connective tissue repair. This is especially beneficial to athletes and body builders whose intense training can cause connective tissue damage. Vitamin C supplementation may also help heal burns and wounds, treat allergy-related conditions such as asthma, eczema and hay fever, and prevent the risk of eye diseases such cataracts, age-related macular degeneration (a degenerative eye disease), uveitis (eye inflammation) and glaucoma.
Vitamin C deficiency is one of the most common nutrient deficiencies. The human body does not produce vitamin C on its own, nor does it store it. Therefore, we depend on obtaining adequate amounts of vitamin C through dietary sources like fresh fruits and vegetables. Certain conditions, such as injury, disease, prolonged exercise, surgery or infections can deplete vitamin C levels, increasing the need for dietary and supplemental vitamin C. Some conditions associated with vitamin C deficiency include heart disease, gallbladder disease, stroke and some cancers.
Taking a daily vitamin C supplement, such as Twinlab's C-1000 Caps, can boost your body's defenses against free radicals, support connective tissue repair and enhance healthy immune function.
Pros

A great advantage of Twinlab's high potency capsules is it provides a convenient way to benefit from the antioxidant power of vitamin C. You'll get more value for your money with Twinlab's C-1000 Caps.
Studies have found that vitamin C has numerous benefits including:
Improves free radical defense
Prevents cell damage
Boosts immune function
Slows the aging process
Decreases the risk of degenerative diseases (such as diabetes and dementia)
Helps prevent heart disease
Reduces the risk of cancer
Promotes connective tissue repair
Helps heal burns and wounds
Treats allergy-related conditions such as asthma, eczema and hay fever
Helps prevent eye diseases such cataracts, age-related macular degeneration (a degenerative eye disease), uveitis (eye inflammation) and glaucoma.
Cons
There are few cons in considering adding a daily antioxidant complex to your diet. Studies suggest that a daily antioxidant supplement such as C-1000 Caps can be a valuable addition to the diet. However, keep in mind that this antioxidant supplement is not a cure-all for individuals on poor diets or have a chronic medical condition. It is a dietary supplement that should be taken in an addition to a healthy diet and regular exercise, for free radical defense, immunity support and overall health.
Vitamin C may produce a laxative effect in certain people, although high intakes of vitamin C (2 grams daily) are well-tolerated by many healthy individuals.
Be aware that some drugs may interact with vitamin C including:
Acetominophen
Aspirin
Beta-blockers for high blood pressure
Cyclosproine
Diuretics, Loop
Nitrate medications for heart disease
NSAIDs (Nonsteroidal Anti-Inflammatory Drugs)
Tetracycline
Warfarin
Is it for you?
If you wish to protect your cells and tissues from free radical damage, boost your immunity, slow the effects of aging, support connective tissue repair and promote overall health you may find nutritional support with Twinlab's C-1000 Caps. However, people with iron overload (hemosiderosis or hemochromatosis) should not take this supplement without consulting a physician.

Dosage and Directions
Take one capsule daily with water or juice within one half hour after a meal. Or use as directed by a health professional. Keep tightly closed in a cool, dry place.
C 1000 Caps Supplement Facts


Serving Size: 1 capsule
Servings Per Container: 250
Amount Per Serving
Daily Value
Vitamin C
1,000 mg
1666%
*percent Daily Values are based on a 2,000 calorie diet.

*These statements have not been evaluated by the Food and Drug Administration. This product is not intended to diagnose, treat, cure or prevent any disease.
User reviews
Great product to use
I have a pretty low immune system so these vitamin c packed gel capsules really help when it comes to that. They are kind of big for me to swallow, but I have gotten used to it. They definitely are easier to swallow than their hard pill counterparts however. It is nice to have something like this instead of stressing about how much fruit and vegetables I am getting. All in all, this one is a keeper!
Great immune booster
I work in retail and come into contact with people on a daily basis. I found myself getting more colds than average even though I regularly used hand sanitizers. So I decided to try a vitamin c supplement and decided to try Twinlab's C-1000 Caps. They've really seemed to help boost my immune system.
Best way to avoid the unsuspecting illness.
I take vitamin C on a daily basis I work with a lot of kids, it seems when one kid gets sick the rest of them do. It is a good way to boost my immune system, as well as get the vitamin C I need when I'm not constantly eating fruit. They are pretty easy to swallow due to size and fast working due to the Gel caps.
Probably the best
I must say this is the best form of Vitamin C. Its locked in a gelatin capsule so doesn't need additives to be formed into a hard pill. Also really easy to swallow. If you need to take extra vitamin C, this is probably one of the very best ways to get it outside of extra fruit and veggies and you get a huge dose from this supplement.
Great for the immune system
These tablets were great for boosting for immune system. If I feel unwell it's usually for a very short period of time whereas before I used to have to take days off. I highly recommend these.