Twinlab's C-Plus Bioflavonoid Caps - Product Review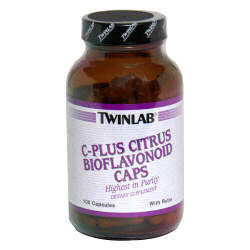 Description
Twinlab's C-Plus Citrus Bioflavonoid Caps combines high potency vitamin C with citrus bioflavonoids for enhanced antioxidant support. Citrus bioflavonoids are potent plant pigments present in citrus fruits such as fresh oranges, lemons, grapefruits, limes and tangerines. These water-soluble compounds protect small blood vessels and enhance the antioxidant benefits of vitamin C.
Vitamin C, or ascorbic acid, is a water-soluble vitamin that supports the immune system and helps protect your cells from free radical damage. Free radicals are toxic byproducts of metabolic functions or are introduced from the environment. Some environmental sources of free radicals include ionizing radiation (from X-rays, sun exposure and industrial pollution), ozone, automobile exhaust, heavy metals, alcohol, and chemicals in food, water and air. Free radicals cause damage to cells and tissues, which is associated with cancer, heart disease, and age-related diseases. Antioxidants such as vitamin C and bioflavonoids neutralize harmful free radicals and help protect your body from premature aging, disease and decay.
Vitamin C deficiency is one of the most common nutrient deficiencies. The human body does not produce vitamin C or bioflavonoids on its own, nor does it store them. Therefore, we depend on obtaining adequate amounts of vitamin C and bioflavonoids through dietary sources like fresh fruits and vegetables. Certain conditions, such as injury, disease, prolonged exercise, surgery or infections can deplete vitamin C and bioflavonoid levels, increasing the need for dietary and supplemental vitamin C and bioflavonoids. Some conditions associated with vitamin C deficiency include heart disease, gallbladder disease, stroke and some cancers.
Taking a daily vitamin C and bioflavonoid supplement, such as Twinlab's C-Plus Citrus Bioflavonoid Caps, can boost your body's defenses against free radicals, protect blood vessels, and support healthy immune function.
Pros
A great advantage of Twinlab's high potency capsules is it provides a convenient way to benefit from the enhanced antioxidant power of vitamin C and bioflavonoids. Twinlab offers the highest citrus bioflavonid content, including hesperidin and rutin, available from any manufacturer. You'll get more value for your money with Twinlab's C-Plus Citrus Bioflavonoid Caps.
Studies have found that vitamin C and citrus bioflavonoids have numerous benefits including:
Improves free radical defense
Prevents cell damage
Boosts immune function
Slows the aging process
Decreases the risk of degenerative diseases (such as diabetes and dementia)
Helps prevent heart disease
Reduces the risk of cancer
Treats blood vessel problems including easy bruising, hemorrhoids and varicose veins
Cons
There are few cons in considering adding a daily antioxidant complex to your diet. Studies suggest that a daily antioxidant supplement such as C-Plus Citrus Bioflavonoid Caps can be a valuable addition to the diet. However, keep in mind that this antioxidant supplement is not a cure-all for individuals on poor diets or have a chronic medical condition. It is a dietary supplement that should be taken in an addition to a healthy diet and regular exercise, for blood vessel protection, free radical defense and overall health.
Bioflavonoids have no reported side effects. However, vitamin C may produce a laxative effect in certain people, although high intakes of vitamin C (2 grams daily) are well-tolerated by many healthy individuals.
Be aware that some drugs may interact with vitamin C and bioflavonoids including:
Acetominophen
Acyclovir Oral
Aspirin
Beta-blockers for high blood pressure
Cyclosproine
Diuretics, Loop
Nitrate medications for heart disease
NSAIDs (Nonsteroidal Anti-Inflammatory Drugs)
Tetracycline
Warfarin

Is it for you?
If you wish to protect your cells and tissues from free radical damage, boost your immunity, slow the effects of aging, protect blood vessels and promote overall health you may find nutritional support with Twinlab's C-Plus Citrus Bioflavonoid Caps. However, people with iron overload (hemosiderosis or hemochromatosis) or allergies to corn should not take this supplement without consulting a physician.
Dosage and Directions
Take two capsules daily with water or juice within one half hour after a meal. Or use as directed by a health professional. Keep tightly closed in a cool, dry place.
C-Plus Bioflavonoid Caps Supplement Facts


Serving Size: 2 capsules
Servings Per Container: 50
Amount Per Serving
Daily Value
Citrus Bioflavonoid Complex
650mg
*
Rutin
50mg
*
Vitamin C
1000mg
1666%
* Daily Value not established

Ingredients: Other Ingredients: Gelatin, Purified Water, MCT, Vegetable Based Stearic Acid, Silica. Citrus Bioflavonoids Complex (Containing 50% Total Bioflavonoids Consisting of Flavanones [Hesperidin, Eriocitrin.