Twinlab's Biotin Caps - Product Review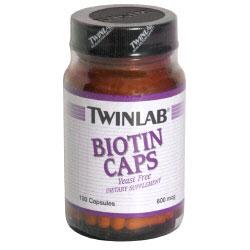 Description
Twinlabs Biotin Caps provides an economical, high potency biotin formula. Biotin, or vitamin H, is part of the B complex group of vitamins. Biotin is produced in the body by intestinal bacteria and is found in plant and animal foods, including organ meats (liver and kidney), oatmeal, egg yolks, soy, brewer's yeast and nuts. This water soluble vitamin plays a key role in the metabolism of proteins, fats and carbohydrates. Biotin is also essential for the growth and maintenance of hair, nails and bone.
Biotin supports body functions that produce energy and convert the foods you eat into carbohydrates or fat. By making the digestive process more efficient, biotin helps increase energy levels and support weight management. Biotin also helps control blood sugar levels in diabetes, promote hair and nail health, treat infant cradle cap (a scaly scalp condition), and prevent birth defects.
Although a dietary deficiency of biotin is uncommon, certain conditions can create a biotin deficiency. Eating large quantities of raw egg whites can create a biotin deficiency, because a protein in the raw egg white interferes with biotin absorption. Long-term use of antibiotics and anti-seizure drugs can increase the risk for biotin deficiency as well as inflammatory bowel disease and gastrointestinal disease. Pregnant women, alcoholics and diabetics may have an increased risk for biotin deficiency.
Taking a daily biotin supplement, such as Twinlabs Biotin Caps, can promote hair and nail health, support weight management, boost energy and prevent deficiencies.
Pros

One of the most popular reasons for taking biotin is to promote hair and nail health. Supplementation with Twinlabs Biotin Caps can be an important addition to the diet for helping to prevent the complete or partial loss of hair (known as alopecia). Biotin may also improve thin, splitting or brittle nails.
Studies have found that biotin has numerous benefits including:
Promotes hair and nail health
Improves blood sugar levels
Treats infant cradle cap (a scaly scalp condition)
Relieves symptoms of peripheral neuropathy (damaged nerves of the extremities)
Prevents birth defects
Supports weight management
Enhances energy levels
Cons
Most biotin supplements are available in 10 mcg to 100 mcg preparations. This supplement's highly potent 600 mcg capsules are at the upper limit of dosing. Large doses (600 mcg each) of biotin may be recommended for certain conditions, such as a deficiency. It is not known if large doses of biotin are more useful than smaller doses to provide health benefits.
Biotin is not associated with side effects in large doses. However, since biotin is water soluble, excess biotin not absorbed by the body is excreted. As a result, large doses of biotin can be a waste of your hard-earned money.
Be aware that some drugs may interact with biotin including:
Antibiotics
Anticonvulsants
Gabapentin
Glyburide
Insulin
Phenobarbital
Topical Corticosteroids
Valproic Acid
Is it for you?
If you're suffering from hair loss, brittle nails, weight problems or low energy, you may derive benefit from Twinlabs Biotin Caps. Also, if you're at risk for biotin deficiency due to one of the conditions mentioned above, you may find nutritional support with Twinlabs Biotin Caps.

Dosage and Directions
Take one capsule daily or use as directed by a health professional. Keep tightly closed in a cool, dry place.
Biotin Caps Supplement Facts


Serving Size: 1 capsule
Servings Per Container: 30
Amount Per Serving
Daily Value
Biotin
600 mcg
200%
*percent Daily Values are based on a 2,000 calorie diet.

*These statements have not been evaluated by the Food and Drug Administration. This product is not intended to diagnose, treat, cure or prevent any disease.