Twinlab's B-100 Caps - Product Review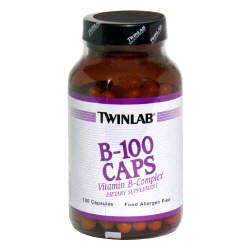 Description
Twinlab's B-100 Caps provide an economical, maximum potency combination of the B-Complex vitamins. The B-complex includes the essential water-soluble vitamins thiamine (vitamin B1), riboflavin (vitamin B2), niacin (vitamin B3), pantothenic acid (vitamin B5), pyridoxine (vitamin B6), biotin, folic acid and vitamin B12, as well as the nonessential vitamins choline, inositol and PABA. The combined actions of the B complex vitamins help support each vitamin's individual effects.
Each of the B complex vitamins are essential for many body functions and are vital for optimum health. Vitamin B6 is required for the production and breakdown of amino acids. Vitamins B5 and B12, folic acid, choline and inositol are essential for the formation of all the cells in our body, as well as DNA (genetic material). Vitamins B1, B2, B3, and B5 work together to support bodily functions that produce energy and form the fuel the body runs on - adenosine triphosphate (ATP).
Certain diets, such as weight loss, vegetarian or very poor diets can increase the risk of B-complex dietary deficiencies. Other people at higher risk for B-complex deficiencies include the elderly, alcoholics, and people who can't absorb vitamins from foods. In particular, Vitamin B12 deficiency is one of the most common nutrient deficiencies. Vitamin B12 supplementation is often recommended for older adults, vegetarians and vegans.
Taking a daily B-complex such as Twinlab's B-100 Caps supplies the necessary nutrients to boost energy, promote healthy cells, support amino acid activity, prevent B-Complex deficiencies and maintain overall well-being.
Pros

A great advantage of Twinlab's B-100 Caps is it provides an economical way to benefit from a maximum potency blend of all of the B-complex vitamins. Many B-complex supplements only provide 50 mg of each of the B-complex vitamins. However, Twinlab's B-100 Caps provides optimal doses - 100 mg of each B-complex vitamin. Rather than purchasing each B vitamin separately, you'll get convenience and value with Twinlab's B-100 Caps.
Studies have found that Vitamin B Complex nutrients have numerous benefits including:
Enhances energy levels
Promotes healthy cells formation
Aids in DNA (genetic material) formation
Supports amino acid activity
Prevents B vitamins deficiencies
Lowers toxic homocysteine levels (high homocysteine levels increase the risk for chronic diseases including heart disease and dementia)
Cons
The required doses for each B-complex vitamin are different, varying from 3 mcg to 100 mg each day. This supplement has equal amounts of the B-complex vitamins at 100 mg each (except for biotin at 100 mcg, folic acid at 400 mcg and vitamin B12 at 100 mcg). Large doses (100 mg each) of B complex vitamins may be recommended for certain conditions, such as a deficiency in one or more of the B-vitamins. However, it is not known if large doses of B-complex vitamins are more useful than smaller doses to provide health benefits such as high energy, healthy cells, and amino acid support.
Since the B-complex vitamins are water soluble, the excess vitamins not absorbed by the body are excreted. This can be a waste of your hard-earned money.
It's popularly believed that when an individual B vitamin is taken for a health problem, you need to take all of the B-complex vitamins to avoid an imbalance. However, there are no studies supporting this claim.
Furthermore, many multivitamin-mineral supplements include B-complex vitamins at their recommended dosages, along with the rest of the essential vitamins and minerals. A good quality multivitamin-mineral supplement that includes all of the B-complex vitamins may be a better investment for you
Be aware that some drugs may interact with B-complex vitamins including:
Aluminum Hydroxide
Anticonvulsants
Aspirin
Atorvastin
AZT
Benztropine
Carbidopa
Chemotherapy
Cimetidine
Clofibrate
Colchicine
Cycloserine
Didanosine
Diuretics
Doxorubicin
Erythromycin
Famotidine
Fenofibrate
Gabapentin
Gentamicin
Isonizid
Insulin
Lansoprazole
Lithium
Loop Diuretics
Magnesium Hydroxide
Metformin
Methyldopa
Neomycin
Nitrous Oxide
Nizatidine
Omeprazole
Oral contraceptives
Phenobarbital
Ranitidine
Sulfamethoxazole
Tetracycline
Tricyclic Antidepressants
Trimethoprim
Valproic Acid
Is it for you?
If you're over the age of 55, a vegetarian or vegan, have a poor diet, or suffer from stress and fatigue, you may derive benefit from Twinlab's B-100 Caps. Also, if you're at risk for B-complex deficiencies, you may find nutritional support with Twinlab's B-100 Caps.

Doasage and Directions
Take one capsule daily immediately after your meal. Or use as directed by a health professional. Keep tightly closed in a cool, dry place.
B 100 Caps Supplement Facts


Serving Size: 1 capsule
Servings Per Container: 90
Amount Per Serving
Daily Value
Biotin
100 mcg
33%
Choline Bitartrate
100 mg
*
Folic Acid
400 mcg
100%
Inositol
100 mg
*
Niacin (as Niacinamide)
100 mg
500%
PABA
100 mg
*
Pantothenic Acid (as D-Calcium Pantothenate)
100 mg
1000%
Riboflavin
100 mg
5882%
Thiamin (as Thiamin Mononitrate)
100 mg
6667%
Vitamin B12 (as Cyanocobalamin)
100 mcg
1667%
Vitamin B6 (as pyridoxine hydrochloride)
100 mg
5000%
*percent Daily Values are based on a 2,000 calorie diet.

*These statements have not been evaluated by the Food and Drug Administration. This product is not intended to diagnose, treat, cure or prevent any disease.