StarChem Labs' Armageddon - Product Review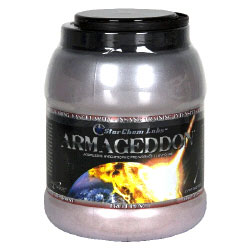 Description
StarChem Labs' Armageddon features patent-pending technology to deliver an advanced pre-workout drink mix. It contains a cutting edge GeneFusion HyperGrowth Mind, Body Expansion matrix and HydroTrans Instant and Sustained MyoHypertrophic Energy Matrix. Armageddon is a pre-workout volumizer specially designed for hard training athletes to promote greater pumps (muscle expansion), strength, energy and muscular vascularity.
Armageddon's Gene Fusion and Hydrotrans matrixes combine muscle-building creatines, nitric oxide (NO) promoters, blood sugar regulators and energizers. Micronized creatine monohydrate and creatine citrate are soluble forms of creatine that maximize creatine concentration in the muscles. Numerous studies suggest that creatine can increase muscle mass, glycogen (stored energy), strength, endurance and recovery. Guanipro (guanidino proprionic acid) can further enhance creatine's muscle cell volumizing effects while increasing workout endurance and stamina.
The amino acid arginine is a NO precursor. Arginine increases blood flow to muscle tissue and sustains blood NO levels. NO is a natural pump that stimulates vasodilation (opens blood vessels) and increases blood flow to the brain and muscles. Nootropics (brain stimulants) such as the amino acid tyrosine (a neurotransmitter precursor), amino acid taurine, DMAE (dimethylaminoethanol), rhodiola rosea and botanical vinca alkaloids (vinpocetine) enhance blood flow and energy production in the brain and promote mental performance. Caffeine is a proven mental and physical performance enhancer with powerful stimulant effects.
L-carnitine is a natural compound that helps preserve muscle glycogen (stored energy) and decrease muscle fatigue. Cinnnulin (cinnamon extract) helps regulate glucose (sugar) levels in the blood. Chromium is an essential trace mineral that helps the body maintain normal blood sugar and insulin levels. Alpha-lipoic acid is a potent insulin-mimicking agent with strong antioxidant properties. It removes glucose from the blood and enhances energy production.
Pros

Armageddon is a patent-pending formula developed by an expert team of exercise scientists and sports nutritionists. It does not need to be cycled on and off, unlike other pre-workout supplements.
Armageddon has the following benefits:
Creatine increases muscle size, strength and endurance
NO pump promotes blood flow and muscular vascularity
Boosts energy, pumps and physical performance
Enhances endurance and mental performance
Maintains healthy blood sugar levels
Cons
Although Armageddon contains no banned ingredients, athletes subject to performance substance testing should consult with their coach and/or sanctioning body prior to using this supplement.
Caffeine may cause insomnia, trembling, anxiety, and urinary frequency. Individuals sensitive to caffeine should avoid taking Armageddon.
Stomach upset, diarrhea, nausea, bloating and muscle cramping have been reported with creatine use.
Large amounts of arginine can lead to diarrhea, weakness and nausea. Arginine may promote viral growth and replication, such as genital herpes.
Research on DMAE has been limited, without a conclusive position on the exact functions of DMAE. At this time there are no known side effects or symptoms of deficiency. More DMAE clinical studies are needed.
Pregnant or lactating women or people with pre-existing medical conditions or viral conditions such as herpes should not supplement with Armageddon without consulting a physician.
Be aware that some drugs may interact with the nutrients in Armageddon including:
Allopurinol
Anticonvulsants
AZT
Benzodiazepines
Chemotherapy
Carbidopa
Clorazepate Dipotassium
Cycloserine
Docetaxel
Soxorubicin
Erythromycin
Estrogens
Fenofibrate
Fluorouracil
Folic Acid
Gabapentin
Gentamicin
Glyburide
Hydralazine
Hydroxychloroquine
Insulin
Isoniazid
Levodopa
Metformin
Mixed Amphetamines
Neomycin
Oral Contraceptives
Oral corticosteroids
Oxazepam
Pencillamine
Phenelzine
Phenobarbital
Rispendone
Sertraline
Sulfamethoxazole
Tetracycline
Theophylline/Aminophylline
Triazolam
Tricyclic antidepressants
Trimethoprim
Valproic acid
Is it for you?
If you're a hard training athlete looking for an advanced pre-workout volumizer to promote pumps, strength and vascularity, Armageddon is for you.
However, pregnant or lactating women or people with pre-existing medical conditions or viral conditions such as herpes should not supplement with Armageddon without consulting a physician.

Dosage and Directions
On workout days, mix two to three scoops with 16 to 20 ounces of water 30 to 60 minutes before training (preferably on an empty stomach).
On non workout days take one scoop with 8 to 12 ounces of cold water (preferably on an empty stomach).
For best results, avoid consuming a meal within an hour of taking Armageddon. Use Armageddon every day for at least 30 days in conjunction with a healthy diet and regular exercise program.
Since glutamine can interfere with nitrous oxide production, avoid consuming glutamine immediately before using Armageddon.
Depending on your body weight and individual metabolism, using a little more (about 3 scoops) or less (about 1 scoop) may be required.
Do not exceed more than three scoops during any 24 hour period.
Armageddon Supplement Facts


Serving Size: 1 scoop
Servings Per Container: 40
Amount Per Serving
Daily Value
Armageddon Proprietary Blend
25,000 mg
*
Calories
52
*
Calories from Fat
0 g
*
Cholesterol
0 mg
0%
Dietary Fiber
1 g
4%
Magnesium phosphate
40 mg
10%
Phosphorous
51 mg
5%
Protein
0 g
0%
Saturated Fat
0 g
0%
Sodium (sodium chloride)
160 mg
7%
Sugars
4 g
*
Total Carbohydrate
13 g
4%
Total Fat
0 g
0%
Trans Fat
0 g
*
Vitamin B12 (Cyanocobalamin)
100 mcg
1667%
Vitamin B6 (Pyridoxine HCl)
36 mg
1800%
*percent Daily Values are based on a 2,000 calorie diet.

*These statements have not been evaluated by the Food and Drug Administration. This product is not intended to diagnose, treat, cure or prevent any disease.