Saffron Pure - Product Review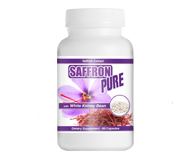 Description
Saffron Pure is a weight loss product that utilizes the spice saffron to help control hunger and cravings. Saffron extract is a powerful appetite suppressant that helps to reduce cravings without users feeling hungry. Saffron Pure is a safe supplement to be used in conjunction with other natural weight loss approaches. The appetite suppressing properties of large doses of saffron have been covered extensively by the media and doctors. Saffron Pure a non-prescription supplement available online, and is backed by a 60 day guarantee.
Pros
A popular natural supplement for dieters, saffron differs from other products in that it targets the cravings and mood swings that cause overeating, before it happens. Saffron's effects have been proven to reduce caloric intake, and improve feelings of well-being while consuming less calories in two major clinical studies. Faster results are achieved when saffron usage is combined with proper diet and exercise. Saffron Pure contains only natural ingredients and is free of the most common side effects of weight loss medications.
Cons
Increased awareness and popularity from media coverage and has resulted in shortages of saffron extract at many retail stores. Saffron is one of the most expensive spices, and can cause stomach discomfort in sensitive individuals.
Is it for you?
Dieters prone to emotional over-eating, or who suffer from cravings during dieting, are the primary users of Saffron Pure. Saffron extract is especially popular for those who are using other weight-loss products, since it is safe to use with most supplements and medications. Saffron is not recommended for users under the age of 18.
Dosage and Directions
Take 2 capsules daily, on an empty stomach. Do not exceed recommended dosage. Not recommended for those taking MAOI inhibitors, or those with sensitivity towards spices. Saffron should be used for several consecutive months for best results.
Saffron Pure Supplement Facts


Serving Size: 2 Capsules
Servings Per Container: 30
Amount Per Serving
Daily Value
Saffron Extract 0 08 Safranal
100 Mg
*
White Kidney Bean Extract
75 Mg
*
Coleus Forskohlin 10
25 Mg
*
Proprietary Blend
African Mango Extract (Irvinga Gabonesis), Hydroxycitric Acid, Chromium Picolinate, Green Tea Extract
1000 Mg
*
* Daily Value not established
Other Ingredients : Vegetable capsule contains purified water and hypromellose.