Prolab's Creatine Powder - Product Review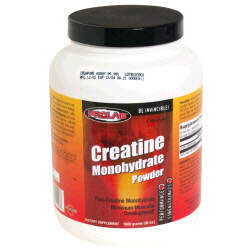 Description
Prolab's Creatine Powder features patented CreaPURE - an exclusive,
100 percent pure creatine monohydrate. Creatine monohydrate is one of the most widely used muscle building supplements on the market. Creatine has been successfully used by professional and amateur athletes and bodybuilders to build muscle power, as well as promote higher workout intensity and performance.
Creatine is is a naturally occurring metabolite used in muscle tissue for the production of ATP (adenosine triphospate), the source of energy the body runs on. High performance athletes may develop low muscle stores of creatine. Creatine supplementation increases the muscle's ability to refuel quickly. Independent studies suggest that creatine supplementation along with regular resistance training can increase muscle size and strength and enhance athletic performance.
In one double-blind, placebo-controlled study (published in Metabolism) researchers randomly assigned 30 healthy male participants to 1 of 3 groups: creatine monohydrate supplementation with no resistance training, creatine plus resistance training, or placebo (inactive pill) plus resistance training. They found that the creatine and creatine & resistance training groups had increased total and fat-free body mass, muscular strength and resting metabolic rate. However, the creatine & resistance training group had significantly more strength gains than the creatine group. Furthermore, peripheral blood flow and blood cholesterol levels were improved in the creatine & resistance training group.
Pros
Prolab subjects each batch of CreaPURE to the highest screening procedures before processing begins. As compared to more expensive creatine products, Prolab's reasonable price gives you more creatine for your money.
The nutrients in Creatine Powder have the following benefits:
Promotes workout intensity
Builds muscle power
Enhances performance
Increases strength gains
Cons
Powdered creatine requires large doses to ensure complete assimilation in the body. Large doses of powdered creatine monohydrate are associated with side effects such as water retention. Since creatine attracts water to cells, unabsorbed creatine monohydrate can remain outside cells and cause bloating, dehydration and cramping.
Pregnant or lactating women or people with kidney disease should not supplement with creatine.
No drug interractions have been reported at this time.
Is it for you?
If you're an athlete, body builder or fitness competitor, creatine can give you proven muscle and strength gains.
However, pregnant or lactating women or people with kidney disease should not supplement with creatine.
Dosage and Directions
Some studies support creatine cycling and others do not.
Creatine loading phase, day 1 through day 5:
Take 1 rounded teaspoon (5 grams) mixed into 8 ounces of water or juice 4 times per day.
Creatine maintenance phase, day 7 and beyond:
Take 1 rounded teaspoon (5 grams) mixed into 8 ounces of water or juice 2 times per day.
Store in a cool, dry place.
Creatine Powder Supplement Facts


Serving Size: 1 Capsule
Servings Per Container: 200
Amount Per Serving
Daily Value
Creatine Monohydrate
5 g
*
*percent Daily Values are based on a 2,000 calorie diet.

Ingredients:
*These statements have not been evaluated by the Food and Drug Administration. This product is not intended to diagnose, treat, cure or prevent any disease.