Progressive Health's Neurophine - Product Review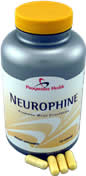 Where To Buy
Progressivehealth.com
Link
Description
Progressive Health's Neurophine is a unique, all-natural formula specially designed to combat carpal tunnel symptoms and promote wrist health. It provides a potent blend of clinically studied nutrients including methylsulfonyl methane (MSM), turmeric, boswellia, cayenne, chondroitin sulfate, hyaluronic acid, Biocell Collagen Type II and essential vitamins and minerals. Neurophine works to effectively reduce inflammation, promote blood flow and improve joint and nervous system health.

Carpal Tunnel Syndrome (CTS) is an entrapment neuropathy (nerve compression) in the wrists. People who perform continual, repetitive movements with their fingers, hands and wrists (such as computer users) are at greatest risk for developing this condition. Neurophine is designed to restore the normal function of the hand and wrist by minimizing the pain, numbness and tingling associated with CTS.

Boswellia, turmeric, MSM and cayenne are natural anti-inflammatory agents. Boswellia's active ingredient, boswellic acid, has been shown to block the production of enzymes in the body that cause inflammation. Turmeric contains potent antioxidants that inhibit certain compounds from causing inflammation. MSM is a natural form of dietary sulfur that is used to reduce inflammation and arthritis pain. Cayenne contains capsicum, a pepper spice that is used in food and medicinally. Capsicum can help increase blood flow to the extremities.

Chondroitin, BioCell Collagen Type II and hyaluronic acid have been shown to maintain and improve bone and joint health and relieve joint inflammation, swelling, stiffness and pain. BioCell Collagen Type II is a protein that provides cartilage with structural strength. Hyaluronic acid (HA) is a protein and key component of connective tissues such as tendons, ligaments and cartilage, as well as synovial fluid lubricating the joints.

Vitamins B6 and C are often deficient in patients with CTS. Minerals like potassium, magnesium, zinc and copper help relieve inflammation, enhance healing and promote neurological health.
Pros
Neurophine offers an effective, all-natural addition to your carpal tunnel management regimen.

Progressive Health guarantees a full refund within 180 days if desired results are not attained.

Neurophine has the following benefits:
Clinically proven, all-natural anti-inflammatory nutrients
• Relieves carpal tunnel symptoms
• Supports wrist health
• Minimal risk of side effect
Cons
Some people may experience nausea, GI (gastrointestinal) upset, skin rash or headaches when taking chondroitin, MSM and boswellia.
Oral intake of cayenne may cause burning of the mouth and throat.

Pregnant or lactating women and people with pre-existing medical conditions or those taking medications should consult a physician before taking Neurophine.
Be aware that some drugs may interact with the nutrients in Neurophine including:
• Acetaminophen
• Acetaminophen with Codeine
• Ampicillin
• Anticonvulsants
• Aspirin
• Carbidopa
• Cardec DM
• Chemotherapy
• Cisplatin
• Clozapine
• Cyclophosphamide
• Cycloserine
• Dapsone
• Docetaxel
• Doxorubicin
• Ephedrine and pseudoephedrine
• Epinephrine
• Erythromycin
• Estrogens
• Fenofibrate
• Fluorouracil
• Folic Acid
• Fluorouracil
• Gabapentin
• Gentamicin
• Hydralazine
• Hydroxychloroquine
• Hydrocodone with Acetaminophen
• Indomethacin
• Isosorbide mononitrate
• Isoniazid
• Levodopa
• Methotrexate
• Minocycline
• Mixed amphetamines
• Neomycin
• Nitroglycerine
• Omeprazole
• Oral contraceptives
• Oral corticosteroids
• Pencillamine
• Phenelzine
• Phenobarbital
• Paclitaxel
• Perphenazine
• Rispendone
• Sulfamethoxazole
• Salsalate
• Tacrine
• Tetracycline
• Thioridazine
• Tetracycline
• Theophylline/Aminophylline
• Tricyclic antidepressants
• Trimethoprim
• Valproic acid
• Warfarin
Is It For You?
If you want to relieve carpal tunnel symptoms and support wrist health, Neurophine is for you.

However, pregnant or lactating women and people with pre-existing medical conditions or those taking medications should consult a physician before taking Neurophine.
Dosage and Directions

As a dietary supplement, take two capsules in the morning and two capsules in the afternoon with 8 ounces of water. 45-60 days of continuous use is necessary for optimum results.