Progressive Health's Capisette - Product Review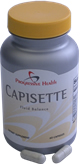 Description
Progressive Health's Capisette is an all-natural supplement designed as a non-toxic alternative to prescribed diuretic drugs for fluid retention (edema).
It provides a potent blend of proven nutrients including uva ursi, dandelion, gingko biloba, bucha, horse chestnut and essential minerals. Capisette has been developed to eliminate fluid retention, regulate fluid balance, improve circulation and provide anti-inflammatory benefits.
Magnesium and potassium are essential minerals that can help relieve symptoms of edema. Potassium is a major electrolyte that regulates the flow of fluids in cells and tissues. One study, published in Women's Health, found that magnesium supplementation helped relieve fluid retention in premenstrual women.
The botanicals uva ursi, dandelion and buchu are natural plant diuretics. One study indicates that dandelion leaves have similar diuretic effects to the diuretic drug furosemide (Lasix®). Uva ursi and buchu have also been used in traditional herbal medicine to treat urinary tract infections and inflammation.
Ginkgolides and bilobalides found in the herb gingko biloba have been found to increase circulation while improving blood flow. Gingko biloba also contains potent antioxidants that may prevent blood platelet stickiness (aggregation). Due to these actions, gingko biloba may help prevent circulatory diseases and improve blood flow.
The botanical horse chestnut contains a saponin known as aescin, which has anti-inflammatory properties and reduces swelling. Studies suggest that horse chestnut may reduce fluid leakage from tissues caused by edema while promoting circulatory health.
Pros

Capisette was developed to eliminate fluid retention, whether swelling is caused by an underlying condition or from chronic sitting or standing. It offers a natural, non-toxic alternative to diuretic drugs. Capisette addresses the underlying causes of fluid retention for guaranteed symptomatic relief.
Progressive Health guarantees a full refund within 180 days if desired results are not attained.
The nutrients in Capisette have the following benefits:
Eliminates fluid retention
Regulates fluid balance
Improves circulation
Anti-inflammatory benefits
Cons
Since edema may be a sign of a more serious disease, individuals should see their doctor to establish a diagnosis.
Certain people may experience excessive bleeding when taking gingko biloba.
Some people may experience itching, nausea or GI (gastrointestinal) upset with horse chestnut, buchu, uva ursi, or potassium.
For some people, magnesium may cause diarrhea.
People with a confirmed sensitivity to inulin fiber found in dandelion should not take Capisette.
Pregnant or lactating women, people with pre-existing medical conditions or those taking medications should consult a physician before taking Capisette.
Be aware that some drugs may interact with the nutrients in Capisette including:
Albuterol
Alendronate
Amiloride
Amphotericin B
Aspirin
Azthromycin
Cimetidine
Ciproloxacin
Cisplatin
Citalopram
Cycloserine
Cyclosporine
Digoxin
Docusate
Doxycycline
Epinephrine
Erythromycin
Estrogens (combined)
Famotidine
Felopidine
Fentanyl
Fluoxetine
Fluvoxamine
Gemifloxacin
Gentamicin
Gimepride
Glipizide
Glyburide
Haloperidol
Heparin
Hydroxychloroquine
Isoniazid
Levofloxacin
Loop Diuretics
Medroxyprogesterone
Metformin
Minocycline
Misoprostol
Mixed amphetamines
Neomycin
Nitrofurantoin
Nizatidine
Ofloxacin
Oral contraceptives
Oral corticoseroids
Paroxetine
Quinidine
Quinolones
Repaglinide
Risedronate
Sertraline
Sotalol
Spironolactone
Sulfamethoxazole
Tetracycline
Theophylline/aminophylline
Thiazide diuretics
Ticlopidine
Tobramycin
Trazodone
Triamterene
Trimethoprim
Warfarin
Is it for you?
If you suffer from fluid retention and want to relieve symptoms and improve circulation, then Capisette is for you.
However, pregnant or lactating women, people with pre-existing medical conditions or those taking medications should consult a physician before taking Capisette.
Capisette Supplement Facts


Serving Size: 2 Capsules
Servings Per Container: 30
Amount Per Serving
Daily Value
Cordyceps
50g
*
Magnesium (Oxide)
150 mg
37%
Potassium (Chloride)
99 mg
3%
Uva Ursi Ext
40mg
*
* Daily Value not established

As a dietary supplement, take one capsule in the morning and one capsule in the evening with 8 ounces of water.
User reviews
Great Edema Product.
Helped quickly with my wifes edema.