Progressive Health's Callumae - Product Review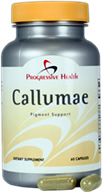 Description
Progressive Health's Callumae is an innovative, all-natural formula designed specifically for vitiligo sufferers. This breakthrough supplement contains a synergistic blend of nutrients such as picorrhiza, khellin, L-phenylalanine and gingko biloba and vitamins B12, B6 and folic acid. Whether used alone or in combination with conventional vitiligo treatment, Callumae works to slow the progression of vitiligo and support healthy skin pigmentation and immune function.
Vitiligo is a skin disease characterized by progressively widening patches of depigmented (white) skin. These white skin patches are associated with the destruction of melanocytes, specialized cells responsible for skin pigmentation (color). Although the cause has yet to be determined, several theories exist including an autoimmune destruction of melanocytes, genetic susceptibility, or exposure to certain chemicals.
Research indicates that vitamins B6, B12 and Folic Acid are abnormally low in most vitiligo patients. Studies suggest that supplementing with these vitamins can improve skin pigmentation, especially when combined with UV therapy or sun exposure. Furthermore, preliminary trials have found that supplementation with the medicinal plants picorrhiza, khellin (an extract from Ammi visnaga) and gingko biloba may be useful in repigmenting the skin of people with vitiligo.
Clinical research suggests that supplementation with the amino acid L-phenylalanine (LPA) produces good results in both children and adults with vitiligo, especially when combined with light therapy and khellin. One double blind study, published in the European Journal of Dermatology, found that supplementation with L-phenylalanine and khellin in combination with UVA light therapy, resulted in repigmentation of up to 63 percent of vitiligo patients.
Pros

Callumae offers an effective, comprehensive and potent supplemental option for vitiligo treatment. Callumae's unique formula has been specifically designed to support immune function and the skin's natural pigmentation processes.
Progressive Health states that most customers should experience immediate
results, while others may see results within a few weeks.
The nutrients in Callumae have the following benefits:
Slows the progression of vitiligo
Supports skin health
Boosts immune function
Improves skin repigmentation
Safe and effective
Cons
Certain people may experience mild headaches and stomach upset when taking gingko biloba.
Pregnant or lactating women, people with pre-existing medical conditions or those taking medications should consult a physician before taking Callumae.
Be aware that some drugs may interact with the nutrients in Callumae including:
Aluminum hydroxide
Anticonvulsants
Aspirin
Azathioprine
Bile Acid Sequestrants
Chemotherapy
Colestipol
Cyclosperine
Diuretics
Erythromycin
Famotidine
Fenofibrate
Fluoxetine
Gabapetin
Indomethacin
Isoniazid
Lansoprazole
Lithium
Loop Diuretics
Magnesium Hydroxide
Medroxyprogesterone
Metformin
Methotrexate
Neomycin
Nitrous oxide
Nizatidine
Omeprazole
Oral contraceptives
Phyobarbital piroxicam
Ranitidine
Salsalate
Sodium bicarbonate
Sulfasalazine
Sulindac
Tetracycline
Thiazide Diuretics
Triamterene
Trimethoprim
Valproic acid
Warfarin
Is it for you?
If you suffer from vitiligo and want to support skin health, improve skin repigmentation and boost immune function, then Callumae is for you.
However, pregnant or lactating women, people with pre-existing medical conditions or those taking medications should consult a physician before taking Callumae.
Dosage and Directions
Take 2 capsules per day with an 8 oz glass of water.
For best results, use Callumae continuously for a minimum of 45 to 60 days. Use in combination with UVA light therapy.
User reviews
Great for Edema!
This product helped reduce localized swelling in the ankles of my friend that was taking it. Very effective.