Progressive Health's Advosis - Product Review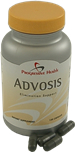 Description
Progressive Health's Advosis is an all-natural supplement specifically formulated to relieve diarrhea, enhance intestinal absorption and restore intestinal tract health. It provides a proprietary blend of scientifically proven nutrients including bentonite clay, probiotics, nutritional brewer's yeast, activated charcoal and blond psyllium seed and husk. Advosis helps resolve diarrhea's symptoms by helping rid the body of toxins, restore nutrients lost from diarrhea, support intestinal tract health and reduce the duration of recovery from diarrhea.
Diarrhea is a common condition, second only to the common cold in the number of days missed at work. The most common causes of diarrhea include food intolerance (such as lactose intolerance), certain medications, bacteria, parasites, and intestinal and bowel disorders. Nutritional therapy is often recommended for treatment of diarrhea. However, studies suggest that the nutrients found in Advosis produced significantly shorter durations of diarrhea than patients concentrating on diet alone.
Advosis helps add bulk and reduce the fluidity of stools with its inclusion of blond psyllium seed and husk. Studies suggest that psyllium can treat chronic diarrhea by slowing the digestive process and promoting an increase in stool thickness. Bentonite clay helps absorb and eliminate toxins in the digestive tract. Probiotics such as bifidus and acidophilus are beneficial bacteria found in the intestinal flora. The addition of bifidus and acidophilus help keep the intestinal tract functioning at peak efficiency and prevent diarrhea. Brewer's yeast effectively helps prevent and treat diarrhea. Activated charcoal binds toxins in the digestive tract for elimination and often stops the diarrhea.
Pros

Diarrhea affects more than 100 million people in the US alone. Advosis' unique and effective formula has been specifically designed to relieve diarrhea and restore intestinal tract health.
Progressive Health guarantees a full refund within 180 days if desired results are not attained.
Advosis has the following benefits:
Relieves and prevents diarrhea symptoms
Eliminates toxins in the digestive tract
Promotes intestinal tract health
Restores lost nutrients
Cons
Certain people may experience GI problems such as stomach cramping and flatulence when taking psyllium. This can be avoided by taking the minimal dosage of psyllium in the beginning, then gradually increasing the dosage over time. It is important to drink plenty of water when taking psyllium.
No side effects have been reported with brewer's yeast, although yeast allergies have been reported. High doses may cause gas in some individuals. Brewer's yeast is not recommended for people with immune system impairments, yeast allergies or frequent yeast infections.
Activated charcoal can turn the stools black.
Pregnant or lactating women and people with pre-existing medical conditions or taking medications should consult a physician before taking Advosis.
Be aware that some drugs may interact with the nutrients in Advosis including:
Aminoglycoside antibiotics
Amoxicillan-potassium clavulanate
Amoxicillin
Ampicillin
Antibiotics
Azthromycin
Antidepressants
Cephalosporins
Chlorhexidine
Ciprofloxacin
Clanthromycin
Cindamycin oral
Cindamycin topical
Dapsone
Dicloxacillin
Doxycycline
Erythromycin
Gentamicin
HMG-CoA Reductase Inhibitors (Statins)
Insulin
Levofloxacin
Loracarbet
Lithium
Mesalamine
Macrolides
Metronidazole
Minocycline
Macrolides
Minocycline
Monoamine Oxidase Inhibitors (MAOIs)
Narcotic Pain Relievers
Neomycin
Nitrofurantoin
Orlistat
Ofloxacin
Penicillin V
Penicillins
Quinolones
Simvastatin
Sulfamethoxazole
Sulfasalazine
Sulfonamides
Tetracycline
Tobramycin
Trimethoprim
Trimethoprim/sulfamethoxazole
Is it for you?
If you suffer from diarrhea and want to restore intestinal tract health, then Advosis is for you.
However, pregnant or lactating women and people with pre-existing medical conditions or taking medications should consult a physician before taking Advosis.

Progressive Health's Advosis Nutrition Facts

Serving Size: 4 capsules
Servings Per Container: 30

---

Amount Per Serving
Daily Value

---

Bentonite Clay Powder
500 mg
*
Activated Charcoal
500 mg
*
Psyllium Husk Powder (Plantago ovata)(husk)
375 mg
*
Psyllium Seed Powder (Plantago ovata)(seed)
375 mg
*
Brewer's Yeast (Saccharomyces Cerevisiae)
250 mg
*
Lactobacillus Acidophillus (100B/G
10 mg
*
Lactobacillus Bifidus (100B/G)
10 mg
*
*percent Daily Values are based on a 2,000 calorie diet.
*These statements have not been evaluated by the Food and Drug Administration. This product is not intended to diagnose, treat, cure or prevent any disease.
Directions
Take 2 capsules in the morning and 2 capsules in the evening with an 8 ounce glass of water. The suggested minimum serving is 4 capsules; the maximum serving is 6 capsules daily.
For best results, use Advosis continuously for a minimum of 45 to 60 days.