Progressive Health's Advecia - Product Review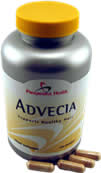 Description
Progressive Health's Advecia is an all-natural supplement specifically formulated to combat hair loss, maximize its regrowth and support hair health. This potent hair loss formula contains a synergistic blend of researched ingredients including saw palmetto, beta sitosterol, green tea extract, arginine, lysine, grape seed extract and proanthocyanidins. Advecia addresses the cause of hair loss internally, to slow and even stop the damaging effects of hair loss.
One of the causes of hair loss is believed to be due to the damaging effects of DHT (dihydrotestosterone) and the enzyme 5-alpha-reductase. DHT is a potent androgen in hair follicles and is derived directly from the male hormone testosterone. It causes the shrinking of hair follicles and causes them to become inactive. DHT binds to androgen receptors with the help of 5-alpha-reductase.
Advecia contains saw palmetto, beta sisterrol (a phytosterol found in many plants), the amino acid lysine, and green tea extract, which all inhibit 5-alpha-reductase. Blocking 5-alpha-reductase effectively reduces DHT uptake by hair follicles. One double-blind placebo controlled study, published in Alternative and Complementary Medicine, found that 60% of men treated with saw palmetto and beta-sitosterol had significant improvement in male pattern baldness.
Animal studies suggest that green tea extract can stimulate significant hair regrowth. Other studies indicate that the potent antioxidant grape seed extract protects hair follicles from damaging free radicals and promotes new hair growth. The amino acid arginine enhances nitric oxide to support and maintain hair health.
Pros

About 67% of all men and 25% of women will suffer from significant hair loss. By targeting hair loss internally, Advecia minimizes hair loss, maximizes its regrowth and supports good hair health.
Progressive Health guarantees a full refund within 180 days if desired results are not attained.
The nutrients in Advecia have the following benefits:
Combats hair loss
Maximizes hair regrowth
Supports hair health
Inhibits damaging effects of DHT (dihydrotestosterone)
Cons
Certain people may experience GI (gastrointestinal) distress when taking saw palmetto. Large amounts of green tea may cause insomnia and anxiety due to its caffeine content. Individuals sensitive to caffeine's stimulant effects should avoid taking Advecia.
Pregnant or lactating women, people with pre-existing medical conditions, or those taking medications or sensitive to caffeine should consult a physician before taking Advecia.
Be aware that some drugs may interact with the nutrients in Advecia including:
Acetaminophin with codeine
Atropine
Cardec DM
Codeine
Ephedrine
Lomotil
Theophyline
Warfarin
Is it for you?
If you want to combat hair loss and improve your hair health, Advecia may be for you.
However, pregnant or lactating women, people with pre-existing medical conditions, or those taking medications or sensitive to caffeine should consult a physician before taking Advecia.

Progressive Health's Advecia Nutrition Facts

Serving Size: 1 tablet
Servings Per Container: 160

---

Amount Per Serving
Daily Value

---

Saw Palmetto Extract 4:1 (Serenoa repens) (fruit)

37.5 mg

Green Tea Extract (Camellia sinensis) (leaf)

600 mg

6%

L-Arginine

1500 mg

2500%

Phytosterol Complex

125 mg

*

L-Lysine

600 mg

*

Grape Seed Extract (Vitis vininfera) (seed)

265 mg

*
Proanthocyanidins/Procyanidins
250 mg
*
*percent Daily Values are based on a 2,000 calorie diet.
*These statements have not been evaluated by the Food and Drug Administration. This product is not intended to diagnose, treat, cure or prevent any disease.
Directions
Take 2 capsules in the morning and 2 capsules in the evening with an 8 oz glass of water.
For best results, use Advecia continuously for a minimum of 45 to 60 days.