Progressive Health's Acktiva - Product Review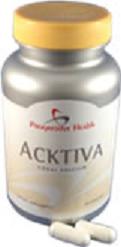 Description
Progressive Health's Acktiva provides naturally derived coral calcium, vitamin D, magnesium and essential trace minerals. Coral calcium contains trace minerals that are naturally ionized and highly absorbable. Acktiva includes a correct ratio of magnesium and vitamin D to help regulate calcium absorption, maintain blood levels of calcium and support bone health.
Calcium is the most important and abundant mineral in our body. Over 99 percent of calcium is stored in our bones and teeth, while the remaining one percent is found in bodily fluids, tissues and cells. Calcium promotes healthy, strong bones, normal muscle and nerve function and fat metabolism. Studies show that many people have calcium, vitamin D and magnesium-deficient diets and less than 10 percent of women have adequate dietary calcium intakes. Acktiva supplies the necessary nutrients to prevent deficiencies, strengthen bone, and protect against future disease.
Research suggests that coral calcium assists the body in balancing its natural pH (acidity content) levels. Excess body acidity may be linked to over 200 degenerative diseases. One study conducted with the same ingredients found in Acktiva showed that the vitamin and mineral blend increased blood alkalinity and buffering capacity. This finding suggests that calcium helps to neutralize excess acidity, thus promoting optimum wellness.
Pros
The health claim that calcium protects bone health is approved by the FDA (Food and Drug Administration). By promoting healthy, strong bones, calcium helps to prevent osteoporosis and ensure a fracture-free future.
Acktiva has the following benefits:
Coral calcium ensures calcium absorption
Supplies over 70 essential trace minerals
Improves and maintains bone health
Balances natural pH levels
Cons
A high intake of calcium (over 2,500 mg daily) may cause constipation, bloating or an upset stomach in certain people.
People with pre-existing medical conditions or taking medications should consult a physician before taking Acktiva.
Be aware that some drugs may interact with the nutrients in Acktiva including:
Advair Diskus
Albuterol
Alendronate
Aluminum Hydroxide
Anticonvulsants
Bile Acid Sequestrants
Caffeine
Calcitonin
Calcium Acetate
Ciprofloxacin
Cisplatin
Colestipol
Cycloserine
Dicloflenac
Doxycycline
Erythromycin
Estrogens Combined
Felodipine
Flurbiprofen
Gabapentin
Gemifloxacin
Genatmicin
Hydroxychloroquine
Indapamide
Indomethacin
Inhaled Corticosteroids
Isoniazid
Lactase
Metformin
Mineral Oil
Minocylcine
Nadolol
Neomycine
Ofloxacin
Omeprazone
Oral Contraceptives
Oral Corticosteroids
Phenobarbital
Quinolones
Risedronate
Sodium Fluoride
Sotalol
Sucralfate
Sulfamethoxazole
Tetracyclines
Thiazide diuretics
Thyroid hormones
Tobramycin
Triamterene
Triamethoprim
Valproic Acid
Verapamil
Is it for you?
If you're looking for a coral calcium blend to promote bone density, bone health and optimum wellness, Acktiva is for you.

Progressive Health's Acktiva Nutrition Facts

Serving Size: 2 capsules
Servings Per Container: 30

---

Amount Per Serving
Daily Value

---

Vitamin D (Cholecalciferol)
800 IU
200%

Coral calcium

2000 mg
*
Yielding Calcium
400 mg
40%
Yielding Magnesium
200 mg
50%
*percent Daily Values are based on a 2,000 calorie diet.
*These statements have not been evaluated by the Food and Drug Administration. This product is not intended to diagnose, treat, cure or prevent any disease.
Directions
Take 1 capsule in the morning and 1 capsule in the evening with an 8 oz glass of water.
For best results, use Acktiva continuously for a minimum of 45 to 60 days.
User reviews
Thanks for Progressive Health's Acktiva
Hi, for a long period of time I was patient of nephrites, after completing my course of medicine I find pain in my shoulder and leg joints. It was happened because of my illness and my doctors recommend calcium tablets always for it. Finally I find Progressive Health's coral calcium supplement, Acktiva from web and I used it. Now I feel better than ever. . Acktiva not only ensures your body's calcium needs but also corrects ratio of Magnesium and Vitamin D in our body. Another benefit is coral calcium gives bone density, organ health, blood pressure that in needed way, to improve blood lipid levels, hormone production. Thanks.