Pinnacle's AlphaDopa Growing Poppers - Product Review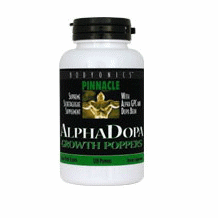 Where To Buy
Bodybuilding.com
link
SHOP NOW
Description
Yes, the headline is impressive. And there may be good reason for it. For many users, it seems that these 'little Poppers' are a panacea, or cure-all. Although they are not intended to be used for every health issue in existence, the natural agents found in Pinnacle's Alpha Dopa Growing tablets do boast some amazing properties. From exercise performance to sounder sleep, the exact same ingredients found in the formula have been extensively studied for there therapeutic benefit.

Pinnacle's Alpha Dopa Growing Poppers are plant based secretagogues - pills that enhance the natural production of specialized chemicals in the body. These tasty, chewable tablets promote the secretion of what many consider the most important hormones in our bodies - Human Growth Hormone, or HGH. Increased HGH levels are thought to be beneficial for stimulating muscle growth and burning fat cells. Interestingly, a contained ingredient (Bacopa) may even help to build new neurons (nerve/brain cells). In theory, this unique product builds both brains and brawn!

Pros

First and foremost, increasing your body's natural HGH output will benefit your entire body. From the brain to the body, elevated HGH levels are associated with increases in protein synthesis and lean body mass, as well as significant improvements in mood and body fat reduction.

Second, this product is easy to take and tastes great. You'll have no problem reminding yourself to take this supplement, especially if you're trying to restrict your daily sugar intake!

Finally, with it's diverse ingredient list, Pinnacle's Alpha Dopa Growth Poppers may afford users additional benefits, other than that of HGH increase. For example, L-Dopa (derived from Mucuna Pruriens) has been used in India for generations as a means to improve mood, sexuality, sleep, and movement. Another ingredient, Alpha GPC, may support brain function and learning processes. It does so by directly increasing the synthesis and secretion of acetylcholine, an important neurotransmitter.
Cons
These poppers do taste great, but for some, they may prove to be too chalky. In addition, the primary ingredient for making this product taste so good is fructose – a "NO-NO" for any serious dieter wishing to avoid simple sugars. The price of this product may also be of some concern for those on a 'supplement' budget. Lastly, results seem mixed among first time users. Many individuals report dramatic improvements in exercise performance and body composition, while others only report a better night's sleep.
Is it for you?
Regardless of if you workout or not, this supplement may prove advantageous for you if you are wishing to boost HGH levels. Of course, working out will help you achieve maximum results with any dietary supplement; Pinnacle's Alpha Dopa Growing Poppers are no exception. Parkinsonian patients may also derive some benefit from this product as it contains an adequate amount of L-Dopa for dopamine regulation and output. Person's wishing to improve sleep or brain and memory function may also find this supplement useful.
Alphadopa Growing Poppers Supplement Facts

Serving Size: 4 poppers
Servings Per Container: 30

---

Amount
Per Serving
Daily Value

---

Alpha GPC (Alpha-Glycerylphosphorylcholine)
100 mg
*
Mucuna Pruriens (Dopa Bean)
667 mg
*
Bacopa Monniera Extract
50 mg
*
*percent Daily Values are based on a 2,000 calorie diet.
*These statements have not been evaluated by the Food and Drug Administration. This product is not intended to diagnose, treat, cure or prevent any disease.
Directions
Pop one (1) or two (2) Poppers into your mouth on a daily basis, preferably 30 minutes to one hour prior to physical activity. Do not swallow them like capsules or chew then like gum. Bite down on then, swish the pieces around in your mouth, under your tongue and particularly in the space between your cheek and gum allowing them to completely dissolve. This helps ensure better absorption into your system and optimum utilization. The maximum recommended dosage of Alpha Dopa for a healthy adult is no more than 4 poppers in a 24-hour period. Do not use for extended time periods. Cycling Alpha Dopa supplementation by using for 3-4 weeks followed by 1-2 weeks off is recommended. Do not exceed recommended daily intake.