ON's 100% Whey Gold - Product Review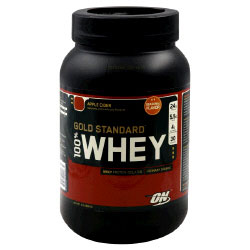 Description
ON's 100% Whey Gold is a low carb, high quality protein powder that won the supplement of the year and protein powder of the year award for 2005, 2006 and 2007. Each serving contains 24 grams of proprietary whey protein, more than 5 grams of BCAAs (branched chain amino acids) and over 4 grams of glutamine and digestive enzymes. 100% Whey Gold was formulated to support lean muscle gain, promote recovery and enhance performance.
100% Whey Gold contains microfiltered whey protein isolates (WPI), hydro-whey hydrolyzed whey peptides, ultrafiltered whey protein concentrates and ion-exchange whey protein isolates. It provides more WPI - the purest and most expensive source of whey protein available. Whey protein promotes positive nitrogen retention (stored muscle protein) for faster muscle growth and recovery. The addition of BCAA's leucine, valine and isoleucine and conditionally essential amino acid glutamine help prevent muscle tissue breakdown and support muscle repair.
100% Whey Gold's digestive enzymes include aminogen and lipase. They enhance protein absorption and make this product more easily digested by lactose intolerant individuals. Aminogen is a naturally derived, patented plant enzyme that aids in protein digestion and assimilation. Lactase is the enzyme that digests lactose (the natural sugar in milk).
Pros

100% Whey Gold won the supplement of the year and protein powder of the year award for 2005, 2006 and 2007. Containing 24 grams of protein in a one-ounce serving, 100% Whey Gold is nearly 79% pure protein by weight. It is instantized, for instant mixability.
100% Whey Gold has the following benefits:
Won the protein powder of the year award 2005-2007
79% pure protein by weight
Whey proteins, BCAAs and glutamine promote lean muscle gain and recovery
Digestive Enzymes promote protein absorption and lactose digestion
Cons
People who are allergic to dairy products should avoid whey protein.
People with pre-existing medical conditions or taking medication should not supplement with 100% Whey Gold without consulting a physician.
Be aware that some drugs may interact with 100% Whey Gold including:
Advair Diskus
Albuterol
Alendronate
Aluminum Hydroxide
Anticonvulsants
Bile Acid Sequestrants
Caffeine
Calcitonin
Calcium Acetate
Ciprofloxacin
Cisplatin
Colestipol
Cycloserine
Chemotherapy
Cyclophosphamide
Docetaxel
Dicloflenac
Doxycycline
Erythromycin
Estrogens Combined
Felodipine
Fluorouracil
Flurbiprofen
Gabapentin
Gemifloxacin
Genatmicin
Hydroxychloroquine
Indapamide
Indomethacin
Inhaled Corticosteroids
Isoniazid
Lactase
Methotrexate
Metformin
Mineral Oil
Minocylcine
Nadolol
Neomycine
Ofloxacin
Omeprazone
Oral Contraceptives
Oral Corticosteroids
Paclitaxel
Phenobarbital
Quinolones
Risedronate
Sodium Fluoride
Sotalol
Sucralfate
Sulfamethoxazole
Tetracyclines
Thiazide diuretics
Thyroid hormones
Tobramycin
Triamterene
Triamethoprim
Valproic Acid
Verapamil
Is it for you?
If you're looking for an award-winning low carb high quality protein powder, 100% Whey Gold is for you.
However, people with pre-existing medical conditions or taking medication should not supplement with 100% Whey Gold without consulting a physician.
ON's 100% Whey Gold Nutrition Facts

Serving Size: 1 scoop
Servings Per Container: 30

---

Amount Per Serving
Daily Value

---

Calories
120
*
Calories from Fat
10
*
Total Fat
1 g
2%
Saturated Fat
1 g
3%
Cholesterol
40 mg
13%
Sodium
60 mg
3%
Total Carbohydrate
3 g
1%
Sugars
1 g
*
Protein
24 g
*
Vitamin A
*
0%
Vitamin C
*
0%
Calcium
*
10%
Iron
*
0%
Trans Fat
0 g
*
*percent Daily Values are based on a 2,000 calorie diet.
*These statements have not been evaluated by the Food and Drug Administration. This product is not intended to diagnose, treat, cure or prevent any disease.
Dosage and Directions
Mix one scoop with 6 to 8ounces of cold water, low fat milk or your favorite beverage. Stir, shake or blend for 20 seconds, or until dissolved.
To support positive nitrogen balance (stored muscle protein), consume approximately 1 gram of protein per pound of body weight, split evenly over 4 to 6 small meals daily. For example if you weigh 150 lb, you would need 30 grams of protein five times per day.
Store in a cool, dry place.
User reviews
Taste great
I've only had experience with a couple of different protein powder brands, so my review can be taken with a grain of salt. However, I have to admit that this brand is good quality and this specific flavor, Cookies and Cream, is really delicious. When mixed with non-fat milk, it almost tastes like a milk shake. It gives it a creamy texture, and it even has tiny little cookies bits (kind of like Oreos). Even with just plain water, the taste is above average. You're not going to crave the water+powder combo, but it's most definitely drinkable and doesn't taste unnatural like some other powders.
The best one
This is the best protein powder that I have consumed compared to other similar products. I did some research on the type of protein that is good for muscle building and everyday consumption and found a lot of information about whey protein. I researched different brands and found Optimum Nutrition very popular. I feel good after drinking protein shakes. I got the best deal on for a 5 lbs protein powder tub. I am so happy with the product.
best protein
This is the best protein on the market. Tastes great mixed in water or milk. It may be more expensive than other brands, but it is worth it. I lift weights 4-6 times per week and this protein has helped me reach my goals faster than compared to other proteins I have used, and I have tried them all. My relatives also use this product and they all satisfied!
100% gold protein
Good results from this product. Ive been using this product for a year now, and definately noticed a difference. Tastes real and its all a good price.
Delicious
This is one of the more delicious protein powders that are out there on the market. I use it daily when I work out to gear me up! It has helped me bring muscle mass easily to my body. I recommend it to every one!