MuscleTech's CryoTest - Product Review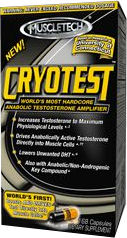 Where To Buy
Bodybuilding.com


Description
MuscleTech's CryoTest is a multi-action, anabolic (muscle building) testosterone amplifier. It contains a proprietary blend of l-carnitine fumerate, epimedium brevicornum, serenoa repens (saw palmetto), GABA (gamma aminobutyric acid), yohimbe, ptychopetalum olacoides (muira puama), eurycoma longifolia, avena sativa (wild oats), haematococcus pluvialis (astaxanthin) and panax quinquefolius (American ginseng). Cryotest boosts testosterone and growth hormone levels and reduces DHT (dihydrotestosterone) and estrogen levels to promote maximum muscle growth and strength.

The herb eurycoma longifolia stimulates luteinizing hormones to produce more testosterone. This not only maximizes muscle mass but also increases the body's metabolic rate, burns body fat and increases sex drive. Muira puama has been used by the indigenous Amazonians to support sexual health. Saw palmetto can inhibit the conversion of testosterone into toxic DHT (dihydrotestosterone). Reducing DHT levels leaves open more androgen receptors for testosterone attachment.

Epimedium (also known as horny goat weed) contains flavonoids that have demonstrated estrogen-inhibiting effects. The amino acid and neurotransmitter GABA stimulates the production of human growth hormone. Growth hormone is known for its powerful muscle building (anabolic) and fat preventing (lipotropic) effects. L-carnitine and yohimbe enhance fat breakdown and thermogenesis (calorie burning).

The adaptogen panax ginseng helps reduce stress and fatigue, enhance energy and stamina, normalize hormone function and support sexual health.
The herb avena sativa helps support the nervous system and maintain good health. The carotenoid astaxanthin is an antioxidant that is 500 times stronger than vitamin E and 10 times stronger than beta-carotene. Antioxidants neutralize harmful free radicals (toxic byproducts of metabolic functions) and protect against inflammation and chronic disease.
Pros
MuscleTech's CryoTest is a potent legal supplement specially developed for bodybuilders to boost testosterone to maximum physiological levels.

CryoTest has the following benefits:
Boosts testosterone to maximum physiological levels
Promotes muscle growth and strength
Lowers toxic DHT
Stimulates growth hormone production


Cons
Yohimbe may cause insomnia, anxiety, and increased blood pressure.
Individuals with post-traumatic stress disorder and panic disorder should avoid yohimbe.

Although side effects are uncommon, nausea, vomiting, diarrhea, body odor and stomach upset have been reported with carnitine use.

Panax ginseng may cause insomnia or agitation, especially when taken with caffeine.

GABA can have a minor sedative effect, so experts recommend taking GABA before bedtime. Other side effects may include a tingling sensation in the hands and face that quickly subsides. Nausea (especially in doses over 3 grams per day) and slight shortness of breath have also been reported. Experts recommend starting with a low dose and progressively taking higher amounts over a period of weeks, to adapt to the supplement and minimize any possible side effects.

Pregnant or lactating women and people with pre-existing medical conditions or taking medication should not supplement with CryoTest without consulting a physician.

Be aware that some drugs may interact with the nutrients in CryoTest including but not limited to:
Allopurinol
Anticonvulsants
Brimonidine
Bupropion
Chemotherapy
Doxorubicin
Fluvoxamine
Gabapentin
Oral corticosteroids
Phenobarbitol
Valproic Acid
Warfarin


Is It For You?
If you're a bodybuilder looking for a multi-action, anabolic testosterone amplifier, CryoTest may be for you.

However, pregnant or lactating women and people with pre-existing medical conditions or taking medication should not supplement with CryoTest without consulting a physician.
Direction and Dosage
Take 1 serving (4 capsules) with a glass of water two times daily. On days of your workout, take 1 serving before breakfast and 1 serving before your workout. On non-workout days, take 1 serving before breakfast, and the other any time of day. To ensure maximum potency and results, use CryoTest™ for a minimum 21-day cycle with a hardcore diet and training program. Do not exceed 8 capsules in a 24-hour period. Read the entire label before using and follow the directions provided.
CryoTest Supplement Facts


Serving Size: 4 Capsules
Servings Per Container: 42
Amount Per Serving
Daily Value
CRYOTEST™ Proprietary Blend
2,491mg
*
Eucommia Longifolia Extract (Leaf) - Avena Sativa Extract (Aerial Parts)
*
*
Eurycoma Longifolia Extract (Leaf) - Ptychopetalum Olacoides (Bark)
*
*
L-Carnitine Fumarate - Epimedium Brevicornum Extract (Aerioal Parts)
*
*
Melatonin (N-Acetyl 5-Methoxytryptamine) - Panax Quinquefolius Extract (Root)(Standardized For 5% Ginsenosides)
*
*
N-Acetyl L-Carnitine - GABA (Gamma-Amino Butyric Acid)
*
*
Serenoa Repens Extract (Fruit) - Haematococcus Pluvialis Extract
*
*
Yohimbe HCL (As Pausinystalia Yohimbe)(Bark) - 3-Methyl-1, 2-Cyclopentanedione (3-MCP)
*
*
* Daily Value not established