MuscleTech's Anabolic Halo - Product Review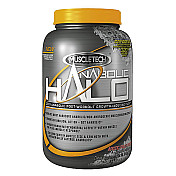 Description
Muscle Tech's Anabolic Halo is a post-workout formula featuring cryogenic (freeze-drying) technology. The freeze drying process helps preserve compounds which may be damaged by conventional drying. Anabolic Halo contains an Anabolic Halo Proprietary Blend with over 75 ingredients. It is specially engineered for bodybuilders to promote a peak anabolic (muscle building) response after workouts.

Anabolic Halo combines creatine monohydrate with creatine derivatives, allowing for better absorption. Studies suggest that creatine promotes lean muscle mass, energy, strength, endurance and recovery. Complex carbohydrate maltodextrins help preserve muscle glycogen (stored energy) levels.

After training, there is a fifteen minute anabolic (muscle building) window to stimulate muscle protein synthesis. Anabolic Halo's amino acids including lysine, threonine, histidine and methionine are immediately delivered to muscles, optimizing the anabolic window after workouts. BCAAs (branched chain amino acids) leucine, valine and isoleucine and conditionally essential amino acid glutamine support muscle energy, recovery and repair.

Other key ingredients include NO promoter ornithine. NO is a naturally produced vascular (blood vessel) 'pump' that stimulates vasodilation (opens blood vessels) and increases blood flow to the brain and muscles. Cinnamon extract helps regulate glucose (sugar) levels in the blood and artichoke flavonoids (Cynara scolymus) support immunity and digestive health. Coleus forskohlii supports natural testosterone levels and sexual health. Yohimbine and l-carnitine promote fat breakdown and improve performance.
Pros
Anabolic Halo's cryogenic (freeze-drying) technology helps preserve compounds which may be damaged by conventional drying.

Anabolic Halo has the following benefits:
Creatine promotes muscle size, strength and endurance
Supports NO production for enhanced muscular vascularity
Fast-acting amino acids stimulate muscle protein synthesis
Enhances muscle energy, repair and recovery
Cons
Few side effects are associated with glutamine supplementation. However, mega-dosing with glutamine over an extended period of time may result in potential side effects such as diarrhea, weakness and nausea.

Stomach upset, diarrhea, nausea, bloating and muscle cramping have been reported with creatine use.

People allergic to artichokes and/or other members of the Compositae (i.e. daisy) family should not use artichoke extract. Those with gall bladder problems should not use artichoke extract without the consulting a physician.

Yohimbe may cause insomnia, anxiety, and increased blood pressure.
Individuals with post-traumatic stress disorder and panic disorder should avoid yohimbe.

Some people may be allergic to cinnamon. Pregnant women should not use cinnamon.

Pregnant or lactating women or people with pre-existing medical conditions or taking medications should not supplement with Anabolic Halo without consulting a physician.

Be aware that some drugs may interact with the nutrients in Anabolic Halo including but not limited to:
Advair Diskus
Albuterol
Allopurinol
Anticonvulsants
AZT
Aspirin
Brimonidine
Bupropion
Chemotherapy
Cisplatin
Cyclophosphamide
Docetaxel
Doxorubicin
Ephedrine and Pseudoephedrine
Epinephrine
Fluvoxamine
Fluorouracil
Gabapentin
Methotrexate
Paclitaxel
Phenobarbital
Salmeterol
Valproic acid


Is It For You?
If you're looking for a post-workout, muscle-building formula featuring cryogenic (freeze-drying) technology, try Anabolic Halo.
However, pregnant or lactating women or people with pre-existing medical conditions or taking medications should not supplement with Anabolic Halo without consulting a physician.
Dosage and Direction
Anabolic Halo™ is an extremely powerful anabolic product. After your workout, start off by consuming 1 serving (1 heaping scoop) mixed in 4 oz. of cold water. As you develop respect for, and truly comprehend the power of Anabolic Halo™, increase to 3 servings (3 scoops) mixed in 12 oz. of cold water and consume after your workouts. On non-training days, consume 3 scoops in the morning. Do not exceed 3 scoops in a 24-hour period. Read the entire label before using Anabolic Halo™, and follow the directions provided.
Anabolic Halo Supplement Facts


Serving Size: 1 Capsule
Servings Per Container: 40
Amount Per Serving
Daily Value
Anabolic Halo™ Proprietary Blend
24,832mg
†
Energy
80
Iron
0.1mg
1%
Niacin
0.33mg
2%
Sodium
120mg
5%
Sugars
9g
Thiamin (as Thiamin Mononitrate)
0.5mg
33%
Total Carbohydrate
19g
6%
Vitamin B12 (as Cyanocobalamin)
20mcg
333%
Vitamin B6 (as pyridoxine hydrochloride)
0.64mg
30%
fat calories
0g
* Daily Value not established
User reviews
Great Post Workout Supplement
My dad is big on working-out and exercising, most everyone in my family is except me for some reason, and loves to try different things to make his workouts better and more effective. I found this when surfing Amazon looking for stuff that he would like for his birthday and am glad I bought it. He loves it and now swears by it claiming that it helps him to feel better after a strenuous workout and says that it even helps his muscle development. He may try a lot of stuff but he will not continue using something after trying it if it doesn't help as he is very strict on what he takes as it costs money and will only use something that is effective. It is a great supplement and he has even recommended it to all his friends who many are now using it as well.