Met Rx's Amped ECN - Product Review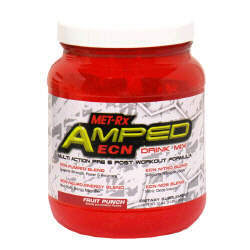 Description
Met Rx's Amped ECN is a multi-action pre and post workout drink mix that delivers four proprietary blends. It contains Pumped Blend, Nitro Blend, Neuro-Energy Blend and NOS Blend. Amped ECN is specially designed to address the most important pre and post workout concerns of serious athletes. It provides multi level support for greater pumps (muscle expansion), explosive energy, maximum creatine uptake and enhanced recovery.
Pumped Blend combines creatine monohydrate with creatine ester phosphate, a more soluble form of creatine that maximizes concentrations in the muscles. This allows for better absorption and helps prevent "creatine bloat" side effects. Research reports that creatine promotes muscle mass, energy, strength, endurance and recovery. N-acetyl cysteine (NAC) is a natural antioxidant that further enhances creatine's muscle boosting and recovery effects.
Nitro Blend combines branched chain amino acids (BCAAs) leucine, isoleucine and valine. BCAAs promote positive nitrogen retention (stored muscle protein) and maintain high levels of protein in the muscle. BCAA's also help prevent muscle tissue breakdown and support muscle repair.
Neuro-Energy Blend features over 1600 mg per serving of cutting edge
nutrients that enhance mental and physical energy levels. Caffeine is a proven mental and physical performance enhancer with powerful stimulant effects. The amino acid taurine helps regulate glucose (sugar) levels in the blood. The amino acid tyrosine (a neurotransmitter precursor) and botanical vinca alkaloids (vinpocetine) enhance blood flow and energy production in the brain. White willow offers anti-inflammatory and pain relief benefits.
NOS Blend includes arginine and glutamine in combination with alpha ketoglutaric acid (AKG). NO is a natural pump that stimulates vasodilation (opens blood vessels) and increases blood flow to the muscles. Arginine supports NO production and promotes pumps, endurance and recovery from exercise. Glutamine helps prevent muscle tissue breakdown and support muscle repair.
Pros

Amped ECN is a multi-action pre and post-workout drink mix. Each serving contains 70 calories, with zero sugar and fat. It conveniently mixes instantly and doesn't require a blender.
Amped ECN has the following benefits:
Pumped Blend promotes maximum creatine uptake without creatine bloat
Nitro Blend BCAAs support positive nitrogen retention
Neuro-Energy Blend boosts mental and physical energy levels
NOS Blend supports NO production for enhanced pumps
Cons
Large amounts of arginine can lead to diarrhea, weakness and nausea. Arginine may promote viral growth and replication, such as genital herpes.
Stomach upset, diarrhea, nausea, bloating and muscle cramping have been reported with creatine use.
Caffeine may cause insomnia, trembling, anxiety, and urinary frequency. Individuals sensitive to caffeine should avoid taking Amped ECN.
People who are allergic to aspirin or other salicylates should not use willow bark. Children should not use willow bark since it may cause Reye's syndrome.
Pregnant or lactating women or people with pre-existing medical conditions or viral conditions such as herpes should not supplement Amped ECN without consulting a physician.
Be aware that some drugs may interact with the nutrients in Amped ECN including:
Acetaminophen
Acetaminophen with codeine
AZT
Anticonvulsants
Benzodiazepines
Bismuth subsalicylate
Carbidopa
Celecoxib
Chemotherapy
Clozapine
Cisplatin
Clorazepate dipotassium
Cyclophosphamide
Cycloserine
Diclofenac
Docetaxel
Doxorubicin
Erythromycin
Estrogens
Etodolac
Fenofibrate
Fluorouracil
Flurbiprofen
Folic Acid
Gabapentin
Gentamicin
Hydralazine
Hydroxychloroquine
Ibuprofen
Indomethacin
Interferon
Isoniazid
Isorbide mononitrate
Ketoprofen
Ketorolac
Live influenza vaccine intranasal
Levodopa
Methotrexate
Metocloparmide
Nabumetone
Nadolol
Naproxen
Nonsteroidal anti-inflammatory drugs
Neomycin
Nitroglycerin
Oral Contraceptives
Oral corticosteroids
Oxaprozin
Oxazepam
Paclitaxel
Pencillamine
Phenelzine
Phenobarbital
Piroxicam
Repaglinide
Rispendone
Salsalate
Sulindac
Sulfamethoxazole
Tetracycline
Theophylline/Aminophylline
Ticlopidine
Tricyclic antidepressants
Triazolam
Trimethoprim
Valproic acid
Zafirlucast
Is it for you?
If you're a serious athlete wanting a multi-action pre and post workout drink to enhance pumps, energy, strength and recovery, then Amped ECN is for you.
Pregnant or lactating women or people with pre-existing medical conditions or viral conditions such as herpes should not supplement with Amped ECN without consulting a physician.

Met Rx's Amped ECN Nutrition Facts

Serving Size: 1 scoop
Servings Per Container: 45

---

Amount Per Serving
Daily Value

---

Calories
70
*
Sodium
230 mg
10%
Potassium
160 mg
5%
Total Carbohydrate
11 g
4%
Sugars
1 g
*
Phosphorus
310 mg
31%
Vitamin B6 (as Pyridoxine Hydrochloride)
25 mg
1250%
Folic Acid
420 mcg
105%
Vitamin B12 (as Cyanocobalamin)
140 mcg
2333%
Magnesium (as Magnesium Phosphate)
100 mg
25%
Amped ECN Pumped Blend
2,500 mg
*
Amped ECN Nitro Blend
1,200 mg
*
Amped ECN Neuro-Energy Blend
1,634 mg
*
Amped ECN NOS Blend
2,000 mg
*
*percent Daily Values are based on a 2,000 calorie diet.
*These statements have not been evaluated by the Food and Drug Administration. This product is not intended to diagnose, treat, cure or prevent any disease.
Directions
For adults, take one scoop (20 g) 3 times per day. Limit to no more than 3 scoops in a 24 hour period.
Before workouts, mix 2 scoops (40 g) with 16 to 20 ounces of water or juice. Consume one half 30 to 60 minutes before training and the balance during the course of your workout.
Do not exceed 2 scoops per workout session and/or more often than every 3 to 4 hours.
Serving size may vary according to individual body weight. Serving size based on 165 lbs (75 kg) individual.
Do not take this product within 2 hours of taking medications.
Store in a dry place and avoid excessive heat.