MMUSA's ATP Creatine Serum - Product Review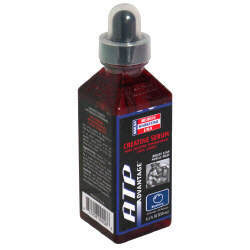 Description
MMUSA's ATP Creatine Serum is the original "No Load, No Maintenance" formula introduced as a safer, more effective alternative to powdered creatine. In its powdered form, creatine monohydrate is insoluble, creating difficulties with supplementation. ATP Creatine Serum features creatine in a stabilized liquid form that is faster acting and more easily administered than powdered creatine. This liquid form of creatine enhances the absorption and utilization of creatine, without the need for loading or maintenance phases.
Creatine is a naturally occurring metabolite used in muscle tissue for the production of ATP (adenosine triphospate), the universal fuel for muscle. Independent studies suggest that creatine can increase strength and enhance athletic training and performance. Creatine can also strengthen the body's immune system and resistance to stress, as well as increase the stability of bone and cartilage mass.
ATP Creatine Serum also contains a synergistic blend of nutrients including Vitamin B12 to promote red blood cell growth, Royal Jelly to enhance the immune system, Ginseng to increase stress resistance and Glucosamine Sulfate to protect muscles and joints. Furthermore, honey is added to support creatine transport to muscle cells.
Pros

ATP Creatine Serum is a stable liquid plant extract with good storage properties. Although liquid creatine is fast-acting, it can also have a short shelf-life. Independent analysis has shown that Muscle Creatine has a shelf-life up to two years and will not breakdown to the waste product creatinine.
Powdered creatine requires long periods of loading mega doses to ensure complete assimilation in the body. In contrast, ATP Creatine Serum is quickly and efficiently absorbed in the body and begins to work immediately. For example, one 5 ML serving of ATP Creatine Serum is the equivalent of 2500 mg of powdered creatine.
High doses of creatine monohydrate are known to cause side effects such as water retention. Since creatine attracts water to cells, unabsorbed powdered creatine can remain outside cells and cause bloating, dehydration and cramping. MMUSA states that ATP Creatine Serum prevents these side effects, due to lower dosages and its immediate absorption into muscle cells.
The nutrients in ATP Creatine Serum have the following benefits:
Builds lean muscle mass and strength
Boosts workout intensity
Promotes well being
Immediate acting, taken only on training days
No loading or maintenance phases
Stable shelf-life for up to 2 years
Cons
Unstable liquid creatine products can rapidly degrade into the waste product creatinine, so obtain stable liquid creatine from a reputable company such as MMUSA.
No toxicity has been reported in studies with creatine. However, stomach upset, diarrhea, nausea and muscle cramping have been reported with high doses of creatine.
Pregnant or lactating women and people with kidney disease should not supplement with creatine.
No drug interractions have been reported at this time.
Is it for you?
If you're an athlete, body builder or fitness enthusiast taking powdered creatine or considering creatine supplementation, you may want to try the convenience of ATP Creatine Serum. With ATP Creatine Serum you'll no longer have to worry about loading and daily maintenance doses, since it's only taken on training days.
However, pregnant or lactating women and people with kidney disease should not supplement with creatine.
Dosage and Directions
Take only on days you are training. Take 5 ml (1 teaspoon) ten minutes prior to each workout.
Fill the dropper to the indicated 1 ml mark. Place the serum in mouth then swallow. Repeat this 4 times to equal the suggested 5 ml serving.
If you prefer, a 5 ml dose of creatine serum may be mixed with water.
Keep refrigerated or at room temperature.
MMUSA's ATP Creatine Serum Nutrition Facts

Serving Size: 1 teaspoon
Servings Per Container: 30

---

Amount Per Serving
Daily Value

---

Creatine Serum
250ml
*
Glucosamine Sulfate
100mg
*
Eleutherococcus Senticosus (ginseng extract 1:4)
50mg
*
Honey
50mg
*
Royal Jelly
20mcg
*
Vitamin b12 (cyanocobalamin)
4mcg
*
Calories
15
*
Sodium
10mg
*
Total Carbohydrates
1g
*
Sugars
1g
*
Protein
300mg
*
*percent Daily Values are based on a 2,000 calorie diet.
*These statements have not been evaluated by the Food and Drug Administration. This product is not intended to diagnose, treat, cure or prevent any disease.