IDS's acetyl-l-carnitine - Product Review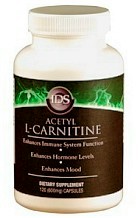 Description
Acetyl-l-carnitine, or ALC, is the delivery form of L-carnitine – an amino acid derived from the essenital amino acids methionine and lysine. Acetyl-l-carnitine supplementation may aid in the utilization of fats for energy, while providing for a muscle sparring effect in active persons during exercise. In addition, this highly absorpable form of L-carnitine may work as a potent antioxidant. In fact, studies have shown that acetyl-l-carnitine is a legitimate anti-aging agent. It has also been shown to provide enhancements in mental alertness, mood, testosterone regulation in males, and immune and cardiovascular function.
Pros

As the essential amino acids methionine and lysine are needed for L-carnitine's development in our bodies, IDS's acetyl-l-carnitine is a perfect compliment to diet. Many people find it hard, or are simply unable to, consume dairy and/or meat products. Dietary supplementation with this important nutrient is the most beneficial means for obtaining carnitine's positive physiological effects. What's more, acetyl-l-carnitine is considered 'conditionally essential," meaning that during periods of high stress (e.g. depression, nutritional inadequacy) or injury acetyl-l-carnitine becomes an essential nutrient.
Cons
There are very few "cons" when it comes to acetyl-l-carnitine. Its safety has been exhibited in a multitude of clinical trials and, as listed above, the benefits are equally numerous. There are conflicting studies regarding its effect of fat metabolism and how effectively it uses fat as an energy source. Nonetheless, acetyl-l-carnitine remains the best option for those wishing to supplement with carnitine.

It remains important to state that individuals should never take carnitine in the D-carnitine or D,L-carnitine (mixture of the D-carnitine and L-carnitine) forms. D-carnitine supplements have been banned in the United States due to the demonstrated toxic effect. D-carnitine also interferes with the function of both L-carnitine and acetyl-L-carnitine.
Is it for you?
If you workout on a regular basis, chances are that acetyl-l-carnitine will prove beneficial for you. Not only has it been shown to enhance exercise performance and prevent muscle wasting in exercise, it also helps to replenish energy stores in muscle post workout and may work to enhance the body's fat burning effect. Additionally, if you are a vegetarian or vegan you may also need to rely on acetyl-l-carnitine supplementation because you are not consuming enough dietary carnitine (i.e. dairy and red meats) to provide for certain bodily processes.
IDS's acetyl-l-carnitine Nutrition Facts

Serving Size: 1 capsule
Servings Per Container: 120

---

Amount
Per Serving
Daily Value

---

Acetyl L-Carnitine
600 mg
*
*percent Daily Values are based on a 2,000 calorie diet.
*These statements have not been evaluated by the Food and Drug Administration. This product is not intended to diagnose, treat, cure or prevent any disease.
Directions
2 capsules 1-2 times daily. Store away from heat, light , and moisture.