Chromium Picolinate Review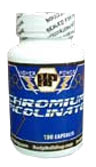 Where To Buy
bodybuilding.com
Link
Higher Power's Chromium Picolinate: Regulates Blood Sugar Levels and Promotes Weight Loss
Description
Higher Power's Chromium Picolinate delivers 200 mcg of high quality chromium picolinate. Chromium picolinate is considered one of the best sources of the trace mineral chromium. Higher Power's Chromium Picolinate can help maintain normal blood sugar and insulin levels, reduce body fat and promote weight loss.

Chromium picolinate supports carbohydrate metabolism and helps regulate blood sugar (glucose) levels. Carbohydrate metabolism converts the foods we eat into sugars. Chromium helps insulin shuttle glucose into muscle cells to be stored as energy. This may decrease fat storage and promote fat loss.

Research suggests that nearly 25% of Americans are chromium deficient. This may be a contributor to the current epidemic of diabetes, obesity and hypoglycemia in the U.S. Chromium picolinate can assist the body in losing weight by helping regulate blood sugar levels, lower body fat and increase lean body mass.
Pros
Higher Power's Chromium Picolinate contains 200 mcg of chromium picolinate per serving.
Chromium picolinate has the following benefits:
Supports efficient carbohydrate metabolism
Regulates blood sugar and insulin levels
Promotes weight loss
Reduces body fat
Cons
Chromium should not be taken by diabetics without the care of a physician.

Pregnant or lactating women, people with pre-existing medical conditions or those taking medications should consult a physician before taking Chromium Picolinate.

Be aware that some drugs may interact with Chromium Picolinate including but not limited to:
Glyburide
Insulin
Metformin
Oral Corticosteroids
Sertraline
Is it for you?
If you're looking to regulate blood sugar levels and promote weight loss, Chromium Picolinate may be for you.
Dosage and Directions
Take one capsule daily.

For best results, chromium should be taken with meals, especially with carbohydrate foods.
Chromium Picolinate Supplement Facts


Serving Size: 100 Capsules
Servings Per Container: 100
Amount Per Serving
Daily Value
Chromium Picolinate
200mcg
*
(In A Base Of Maltodextrin And Magnesium Stearate)
** Not currently considered essential.