HPF's 1st Step Liquid Joint Support - Product Review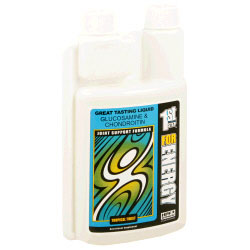 Description
HPF's 1st Step Liquid Joint Support features the first water-based liquid form glucosamine and chondroitin. This new formula works with the immune system to deliver glucosamine and chondroitin's documented benefits to joints and cartilage. Research suggests that 1st Step's all-natural, joint support nutrients not only improve joint health, but also help relieve pain and stiffness and promote mobility.
Glucosamine and chondroitin are two leading nutrients essential for the production, maintenance, and repair of cartilage. Glucosamine and chondroitin are an important part of a biomolecular group called glycosaminoglycans (GAGs). GAGs are found in cartilage, where they bind to water to produce a gel-like extracellular matrix. This helps cushion and lubricate joints.
Studies suggest that glucosamine may be as effective as the OTC anti-inflammatory drug ibuprofen in improving arthritis symptoms. In one study, published in Current Medical Research and Opinion, researchers gave arthritis patients glucosamine sulfate or ibuprofen daily for eight weeks. They found that pain symptoms and mobility improved faster in the ibuprofen group during the first two weeks. However, the glucosamine group demonstrated a greater improvement in arthritis symptoms by the eight week.
Pros

For the first time, HPF provides a great-tasting, liquid form of glucosamine and chondroitin. HPF claims that 1st Step works with the immune system to promote healthy joints and increase joint mobility.
1st Step Liquid Joint Support's nutrients have the following benefits:
Improves and maintains joint health
Relieves arthritis symptoms
Eliminates stiffness and improves mobility
Promotes cartilage repair
Cons
Certain people may experience mild GI problems including nausea with glucosamine and chondroitin use.

People with pre-existing medical conditions or on medication should not supplement with 1st Step Liquid Joint Support without consulting a physician.
Be aware that some drugs may interact with 1st Step Liquid Joint Support including:
Anti-Coagulants
Anti-Platelet medications
Diuretic drugs
Is it for you?
If you prefer a liquid supplement to improve your joint and cartilage health, then 1st Step Liquid Joint Support is for you.

Dosage and Directions
Shake well before using
Remove the chamber cap, squeeze 1 fluid ounce of the liquid into the chamber and drink.
Refrigerate after opening.
1st Step Liquid Joint Support Supplement Facts


Serving Size: 1 fl oz
Servings Per Container: 16
Amount Per Serving
Daily Value
Calories
10
*
Chondroitin Sulfate
600 mg
*
Glucosamine Sulfate
1,000 mg
*
Protein
1 g
*
Sugars
3 g
*
Total Carbohydrate
3 mg
*
*percent Daily Values are based on a 2,000 calorie diet.

*These statements have not been evaluated by the Food and Drug Administration. This product is not intended to diagnose, treat, cure or prevent any disease.
User reviews
Firm Believer
Ever since I could remember my joints would bug me. I was overweight but when I lost the weight I still had the problem. I talked to my doctor and I was told to take a supplement specifically beneficial for the joints. I found this product and I have become very fond of it.