Green Coffee Pure - Product Review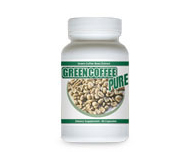 Description
Green Coffee Pure is a popular weight loss supplement that uses unroasted coffee bean extract as its primary active ingredient. It contains several proven natural fat burners blended with ground unripened coffee beans. Naturally occurring chlorogenic acid in the coffee extract is believed to account for its rapid effects on weight loss. Green Coffee Pure is a natural supplement available from Nutra Pure, and is backed by their 60 day guarantee.
Pros
A well-tolerated natural supplement with clinical backing as a fat burner and weight loss aid, green coffee has attracted the attention of news media and several TV personalities for its value as a dieting aid. Users report excellent results from usage, especially when combined with proper diet and exercise behavior. Green Coffee Pure contains pure natural ingredients, high levels of chlorogenic acid, and is free of most of common side effects of weight loss medications.
Cons
Can be difficult to find in the United States; product's popularity and extensive media coverage have resulted in frequent shortages. Green coffee extract does contain small amounts of naturally occurring caffeine that may be a concern to individuals who are particularly sensitive to caffeine.
Is it for you?
Dieters looking to lose weight are the main users of green coffee extract, but it has also been used by customers to reduce binge eating during times of stress. Green coffee is not recommended for users under the age of 18 or those attempting to gain mass, or users that are using prescription sleeping aids.
Dosage and Directions
Take 2 capsules daily, with water. Do not exceed recommended dosage. Not recommended for those with severe fruit allergies, those sensitive to caffeine, or those taking MAOI medications. Green coffee may be used for multiple months for best results.
Green Coffee Pure Supplement Facts


Serving Size: 2 Capsules
Servings Per Container: 30
Amount Per Serving
Daily Value
Proprietary Formula
African Mango extract (Irvingia Gabonensis), Acai Fruit, Green Tea Extract, Resveratrol, Apple Cider Vinegar (Powder), Kelp, Grape-fruit (Powder)
200 Mg
*
Green Coffee Bean Extract
1,000 Mg
*
* Daily Value not established