Garcinia Pure - Product Review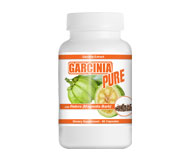 Description
Garcinia Pure is a popular appetite suppressant to aid in weight loss. It contains several proven natural fat burners blended with extract from the garcinia cambogia fruit, a powerful substance covered extensively by the media and doctors. Garcinia Pure is a natural supplement available from Nutra Pure, and is backed by their 60 day guarantee.
Pros
A long time favorite of dieters and those looking to reduce food cravings during times of stress, garcinia has shown great promise in recent studies. Users report excellent results from usage, especially when combined with proper diet and exercise behavior. Garcinia Pure contains potent natural ingredients and is free of common side effects of weight loss drugs.
Cons
Can be difficult to find in the United States; product's popularity and effectiveness in suppressing appetite has resulted in frequent shortages.
Is it for you?
Dieters looking to suppress their appetite and lose weight are the main users of garcinia, but it has also been used by customers to reduce binge eating during times of stress. Garcinia is not recommended for users under the age of 18 or those attempting to gain size or mass.
Dosage and Directions
Take 2 capsules daily, with water. Do not exceed recommended dosage. Not recommended for those with severe fruit allergies, or those taking MAOI medications. Usage should be continued for multiple months for best results.
Garcinia Pure Supplement Facts


Serving Size: 2 Capsules
Servings Per Container: 30
Amount Per Serving
Daily Value
Potassium Gluconate
70 Mg
*
Proprietary Blend Magnolia Bark Extract (Magnolia Officinalis, bark), Amur Corktree Bark Extract (Cortex phellodendri, bark)
200 Mg
*
Garcinia Cambogia (Standardized to 50 HCA)
1000 Mg
*
* Daily Value not established
User reviews
Helps in my Weight Loss Program
A friend recommended Garcinia Pure to me. Its now become an integral part of my weight loss program. Very happy about the results now...even more optimistic about the results down the road.
Easy, painless weight loss
I saw Garcinia recommended on the TV a while ago. Seemed promising compared to other products I had used in the past. So far so good and am happy with the results. Dropped a few pounds already.