EAS 100% Whey Protein - Product Review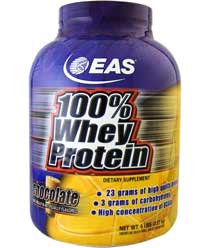 Description
EAS' 100% Whey features 23 grams of high quality protein rich in BCAAs (branched chain amino acids) leucine, valine and isoleucine. This protein powder includes a blend of whey protein concentrate, whey protein isolate, 18 amino acids and essential minerals (calcium, iron, sodium and potassium). 100% Whey is designed for athletes to promote lean muscle growth and recovery after training and athletic performance.
100% Whey protein is processed through a series of low-temperature micro- and ultra-filtration steps. This produces the highest biological value protein available from any single protein source, while preserving the greatest concentration of bioactive microfractions. Whey proteins contain an optimal concentration of all of the amino acids that promote positive nitrogen retention (stored muscle protein). The microfractions support whey protein's immune enhancing effects, promoting recovery and good health.
One study published in Clinical Investigative Medicine reveals that whey protein is absorbed faster than any other protein and can enhance muscle growth by up to 68%. Another study published in the American Journal of Physiology and Endocrinology Metabolism suggests that whey protein contains the highest levels of BCAAs, which helps muscles recuperate faster from rigorous exercise. BCAAs make up about one-third of the protein in muscles. The body can't make BCAAs from other substances so they must be supplied from the diet or supplements.
Pros

Each serving of 100% Whey contains 23 grams of high quality protein and 3 grams of carbohydrates. 100% Whey is instantized to mix instantly in cold water.
100% Whey has the following benefits:
Provides 23 grams of high quality protein to promote lean muscle growth
Microfractions support immune enhancing effects
BCAAs promote muscle repair and recovery
Only 3 grams of carbs
Cons
People who are allergic to dairy products should avoid whey protein.
People with pre-existing medical conditions or taking medication should not supplement with 100% Whey without consulting a physician.
Be aware that some drugs may interact with the nutrients in 100% Whey including:
Advair Diskus
Albuterol
Alendronate
Aluminum Hydroxide
Anticonvulsants
Acebutolol
Amiloride
Angiotensin-converting enzyme inhibitors
Atenolol
Benazepril
Beta-adrenergic blockers
Betaxolol
Bisacodyl
Bisoprolol
Bile Acid Sequestrants
Caffeine
Calcitonin
Calcium Acetate
Ciprofloxacin
Cisplatin
Colestipol
Cycloserine
Capropril
Celecoxib
Colchicine
Digoxin
Docusate
Dicloflenac
Doxycycline
Erythromycin
Estrogens Combined
Enalapril
Epinephrine
Etodolac
Felodipine
Flurbiprofen
Gabapentin
Gemifloxacin
Genatmicin
Haloperidol
Heparin
Hydroxychloroquine
Indapamide
Indomethacin
Inhaled Corticosteroids
Isoniazid
Ibuprofen
Indapamide
Ipecac
Ketorolac
Lactase
Labetalol
Lisinopril
Loop diuretics
Losartan
Lotrel
Magnesium hydroxide
Metoprolol
Mineral oil
Moexipril
Metformin
Minocycline
Nadolol
Neomycine
Nabumetone
Naproxen/naproxen sodium
Neomycin
Oxaprozin
Ofloxacin
Omeprazone
Oral Contraceptives
Oral Corticosteroids
Phenobarbital
Piroxicam
Propranolol
Quinapril
Quinidine
Quinolones
Risedronate
Rampril
Salsalate
Senna
Sotalol
Spironolactone
Sulfamethoxazole
Slindac
Sodium Fluoride
Sucralfate
Tetracyclines
Thiazide diuretics
Thyroid hormones
Tobramycin
Triamterene
Triamethoprim
Tetracycline
Theophylline/aminophylline
Thoridazine
Valproic Acid
Verapamil
Is it for you?
If you're looking for a high quality protein powder rich in BCAAs, then 100% Whey is for you.
However, people with pre-existing medical conditions or taking medication should not supplement with 100% Whey without consulting a physician.
Dosage and Directions
Mix one scoop with 6 to 8 ounces of cold water or low fat milk or blend with your favorite Myoplex shake.
For optimum results, consume 1 to 4 servings daily.
To support positive nitrogen balance (stored muscle protein), consume approximately 1 gram of protein per pound of body weight, split evenly over four to six meals daily. For example: 200 lb x 1 gm protein/lb bodyweight equals 200 gm protein/day.
EAS' 100% Whey Nutrition Facts

Serving Size: 1 Scoop
Servings Per Container: 20

---

Amount Per Serving
Daily Value

---

Calories
280
*
Calories from Fat
25
*
Total Fat
3 g
6%
Saturated Fat
1 g
5%
Cholesterol
50 mg
17%
Sodium
310 mg
13%
Potassium
910 mg
26%
Total Carbohydrate
23 g
8%
Dietary Fiber
3 g
12%
Sugars
2 g
*
Protein
42 g
84%
Vitamin A
*
50%
Vitamin C
*
50%
Calcium
*
70%
Iron
*
60%
Vitamin E
*
100%
Biotin
*
50%
Chloride
*
10%
Chromium
*
80%
Copper
*
60%
Folate
*
50%
Iodine
*
50%
Magnesium
*
60%
Manganese
*
100%
Molybdenum
*
70%
Niacin
*
50%
Pantothenic Acid
*
50%
Phosphorus
*
40%
Selenium
*
35%
Vitamin B12
*
90%
Vitamin B6
*
50%
Zinc
*
60%
Boron
1 mg
*
Riboflavin
*
70%
Thiamin
*
60%
Choline
100 mg
*
Trans Fat
0 g
*
*percent Daily Values are based on a 2,000 calorie diet.
*These statements have not been evaluated by the Food and Drug Administration. This product is not intended to diagnose, treat, cure or prevent any disease.
User reviews
Whey above the rest
There are tons of whey protein products on the market today. I find that EAS Whey Protein not only tastes the best but also gets the best results.
EAS Whey Review
I have been using EAS Whey Protein for one month now and it has been great. Recommending it to my friends.
Great meal replacement
I have used this product multiple times in smoothies and in yogurt to help give them more protein. The taste isn't the best, but the more you blend it in, the better it gets. It makes me feel a lot more full after a smoothie or a yogurt cup than I would if I had them regular, so for that I am thankful. It is too expensive to use on a regular basis however.
EAS 100% Whey Protein
use as a meal replacement.
One of favorite supplements
This cool product-EAS 100% Whey Chocolate flavor protein supplement tastes like chocolate milk when mixed regular or soy milk in it. The powder mixes well if you have milk in the cup before adding the powder. I tolerate it perfectly but i have to warn others because some of my friends have got negative reactions from this supplement-they get minor stomach aches after taking this drink because of the Splenda (artificial flavoring) in the ingredient used to make this powder.