CytoSport's Complete Whey - Product Review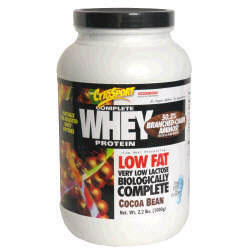 Description
CytoSport's Complete Whey is a biologically complete protein powder featuring 50% BCAAs (branched chain amino acids) with no added sugar.
It contains partially pre-digested whey peptides, BCAAs, cysteine, glutamine lactalbumin, lactoferrin and essential minerals. Complete Whey was formulated to promote lean muscle gain, as well as improve and accelerate recovery from intense training and workouts.
Complete Whey's partially pre-digested whey peptides incorporate very low, low, medium and high molecular weight whey peptides. This enhances muscle growth and improves protein synthesis and absorption. Complete Whey proteins contain an exceptional BCAA to EAA ratio of 50.3% (total BCAA (24.2) divided by total EAA (48.1) equals 50.3). The addition of BCAAs leucine, valine and isoleucine and conditionally essential amino acid glutamine promotes muscle energy, recovery and repair.
Complete Whey protein is naturally rich in nutrients (such as the amino acid methionine) that increase glutathione antioxidant levels and promote immunity. The whey protein fractions also help increase IGF-1 (insulin-like growth factor) to boost fat burning and increase lean muscle mass. The conditionally essential amino acid cysteine helps boost immunity, speed recovery, enhance endurance and maintain optimal health. Beneficial lactoferrin and lactalbumin help promote muscle gain.
Pros
Complete Whey's Insta-Pro New Protein Instantizing Process delivers a protein powder that dissolves instantly in cold water. A blender is not required. It is very low in lactose and contains no added sugar or aspartame.
Complete Whey has the following benefits:
Partially pre-digested whey peptides stimulate muscle growth
50% BCAAs and glutamine promote muscle gain and recovery
Glutathone and cysteine support immunity and optimal health
IGF-1 boosts fat burning and lean muscle mass

Cons
People who are allergic to dairy products should avoid whey protein.
People with ALS (amyotrophic lateral sclerosis), depression, Reye's Syndrome, heart, kidney or liver disease should not supplement with amino acids without consulting a physician.
People with pre-existing medical conditions or taking medication should not supplement with Complete Whey without consulting a physician.
Be aware that some drugs may interact with Complete Whey including:
 Advair Diskus
Albuterol
Alendronate
Aluminum Hydroxide
Anticonvulsants
Acebutolol
Amiloride
Angiotensin-converting enzyme inhibitors
Atenolol
Benazepril
Beta-adrenergic blockers
Betaxolol
Bisacodyl
Bisoprolol
Bile Acid Sequestrants
Chemotherapy
Cisplatin
Cyclophosphamide
Caffeine
Calcitonin
Calcium Acetate
Ciprofloxacin
Colestipol
Cycloserine
Capropril
Celecoxib
Colchicine
Digoxin
Docusate
Dicloflenac
Docetaxel
Doxycycline
Erythromycin
Estrogens Combined
Enalapril
Epinephrine
Etodolac
Felodipine
Fluorouracil
Flurbiprofen
Gabapentin
Gemifloxacin
Genatmicin
Haloperidol
Heparin
Hydroxychloroquine
Indapamide
Indomethacin
Inhaled Corticosteroids
Isoniazid
Indomethacin
Ipecac
Ibuprofen
Ketorolac
Lactase
Labetalol
Lisinopril
Loop diuretics
Losartan
Lotrel
Magnesium hydroxide
Methotrexate
Metoprolol
Mineral oil
Moexipril
Metformin
Minocylcine
Nadolol
Neomycine
Nabumetone
Nadolol
Naproxen/naproxen sodium
Neomycin
Oxaprozin
Ofloxacin
Omeprazone
Oral Contraceptives
Oral Corticosteroids
Paclitaxel
Phenobarbital
Piroxicam
Propranolol
Quinapril
Quinidine
Quinolones
Risedronate
Rampril
Salsalate
Senna
Sotalol
Spironolactone
Sulfamethoxazole
Slindac
Sodium Fluoride
Sucralfate
Sulfamethoxazole
Tetracyclines
Thiazide diuretics
Thyroid hormones
Tobramycin
Triamterene
Tetracycline
Theophylline/aminophylline
Thiazide diuretics
Thoridazine
Tobramycin
Triamethoprim
Trimethoprim/sulfamethoxazole
Valproic Acid
Verapamil
Warfarin
Is it for you?
If you're looking for a biologically complete protein powder with 50% BCAAs, then Complete Whey is for you.
However, people with pre-existing medical conditions or taking medication should not supplement with Complete Whey without consulting a physician.
Dosage and Directions
Mix one scoop (22 grams) in 4 to 5 ounces of cold water, nonfat milk or your favorite beverage. Stir or shake to mix instantly.
Add to hot or cold cereals, baked goods, pancake mixes, yogurt, etc., to increase whey protein intake.
Complete Whey Supplement Facts


Serving Size: 1 Capsule
Servings Per Container: 45
Amount Per Serving
Daily Value
Calcium
*
10%
Calories
96
*
Calories from Fat
15
*
Cholesterol
25 mg
8%
Dietary Fiber
1 g
4%
Iron
*
0%
Low Fat
*
*
Potassium
210 mg
6%
Protein
16 g
32%
Saturated Fat
1 g
5%
Sodium
150 mg
8%
Sugars
2 g
*
Total Carbohydrate
3 g
1%
Trans Fat
2 g
2%
Vitamin A
*
0%
Vitamin C
*
0%
*percent Daily Values are based on a 2,000 calorie diet.

Ingredients: Special Ultrafiltered, Nondenatured, Ultra High Quality Whey Protein Concentrate, Whey Protein Concentrate, Pre-Digested.