Cytodyne's Xenadrine NRG - Product Review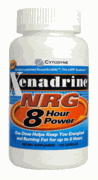 Where To Buy
Bodybuilding4u.com
Link
Description

Cytodyne's Xenadrine NRG supports weight loss, fat burning and continuous energy for up to 8 hours. It contains patented norambrolide (fermented salvia sclarea leaf extract), proprietary methylxanthine blend, amino acid complex proprietary blend and vitamin B12.  Xenadrine NRG's extended release technology delivers fat-burning nutrients within 30 minutes and continues for up to 8 hours.

Norambrolide is a patented form of sclareolide, a natural isolate derived from the herb clary sage. Research on human fat cells suggests that norambrolide supports the breakdown of fat (lipolysis) into energy. Norambrolide activates cyclic AMP (cyclic adenosine monophosphate), which stimulates an enzyme HSL (hormone-sensitive lipase). HSL breaks down fat molecules (lipolysis) to be burned for energy.

Xenadrine NRG's powerful methlyxanthines including caffeine, theobromine, theophyllin, green tea, guarana, and yerba mate, synergistically stimulate adrenergic receptors found in fat tissue and the liver. Studies indicate that methylxanthines promote energy and alertness, improve mental and physical performance and boost the metabolism and fat loss.

The amino acid complex includes tyrosine and thiamine. Tyrosine is required for the production of thyroid hormone and is an important precursor for neurotransmitters that affect the nervous system and hormone production. Thiamine is essential for the proper functioning of the brain and the neurotransmitters acetylcholine and serotonin. Tyrosine and thiamine can enhance the metabolism, alertness and feelings of well-being. Vitamin B12 increases red blood cells which carry oxygen for energy metabolism and boosts low energy levels.
Pros
Xenadrine NRG features patented fat-burner norambrolide and an 8 hour extended release technology.

Xenadrine NRG has the following benefits:
Patented fat-burner norambrolide
Synergistic fat burning methylxanthines
8 hour extended release technology
Promotes fat metabolism and calorie burning
Cons
Caffeine, green tea and guarana may cause insomnia, trembling, anxiety, and urinary frequency. If you regularly drink coffee or caffeinated beverages, Xenadrine NRG should be taken in place of your caffeinated beverages, not in addition to them.

It has not been determined if long-term use of tyrosine in large amounts (more than 1,000 mg per day) is safe. Long-term use of tyrosine should be monitored by a health care professional.

Side effects reported with vitamin B12 include mild diarrhea, anxiety, heart palpitations, insomnia, breathing problems, chest pain and skin rash.
Pregnant or lactating women and people with pre-existing medical conditions or taking medication should not supplement with Xenadrine NRG without consulting a physician.

Be aware that some drugs may interact with Xenadrine NRG including but not limited to:
Acetaminophen with Codeine
Atropine Anticonvulsants
Aspirin
AZT
Caffeine
Cardec DM
Cimetidine
Clofibrate
Codeine
Colchicine
Cycloserine
Ephedrine and Pseudoephedrine
Erythromycin
Famotidine
Fenofibrate
Gabapentin
Gentamicin
Isoniazid
Lansoprazole
Lomotil/Lonox
Loop Diuretics
Metformin
Methyldopa
Neomycin
Nitrous oxide
Nizatidine
Omeprazole
Oral contraceptives
Phenobarital
Ranitidine
Sulfamethoxazole
Stavudine
Tricyclic Antidepressants
Theophylline/Aminophylline
Tetracyline
Tricyclic antidepressants
Trimethoprim
Valproic acid
Warfarin
Is It For You?
If you want fat burning, weight loss and energy support for up to 8 hours, Xenadrine NRG is for you.

However, pregnant or lactating women and people with pre-existing medical conditions or taking medication should not supplement with Xenadrine NRG without consulting a physician.
Dosage And Directions
Take 1 to 4 tablets once daily on an empty stomach with 8 ounces of water, preferably 30 minutes before breakfast or lunch.

130 lbs or less:
Take 2 tablets

130-200 lbs:
Take 3 tablets

200 lbs or more:
Take 4 tablets

If you haven't used this supplement previously, start by taking half the recommended dose during the first week. Then increase the dose to tolerance until maximum dosage is reached.

Do not exceed 4 tablets per day.

Do not take after 4 PM unless you wish to feel energized well into the evening.

For best results, use as part of a sensible diet and exercise program.
User reviews
The Best Supplement for Fat People !
Hello !
I was overweight. I weighed 195 lbs. My stomach was so big and I was feeling very lazy all the times. One of my friend suggested me Cytodyne's Xenadrine NRG. I started to take its regular doses. Within a month, I lost 15lbs, without any harsh diet and all. I was just having normal little exercise and good diet. I now feel more energetic and fresh all the times. Thank you Cytodyne's Xenadrine NRG, for making me healthy!