BSN's Axis-HT - Product Review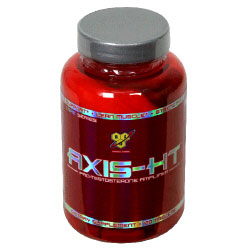 Description
BSN's Axis-HT delivers cutting edge natural testosterone enhancing nutrients. It features patent-pending StAR-P2 (Androgenic Anabolic Testosterone Matrix) including TPS3 (3 Fraction Tribulus Terrestris Composite), GF-5 (Proeinaceous Avian Nucelus Extract), IP6 (inositol hexophosphate), Eurycoma longifolia, Coleus forskohlii, magnesium and zinc. Axis-HT maximizes muscle gain, strength, recovery and testosterone support.
Axis-HT features natural, testosterone-boosting herbal extracts Tribulus terrestris, Eurycoma longfolia and Coleus forskohlii. They support and enhance natural testosterone levels without the use of prohormones. Promoting testosterone levels not only maximizes muscle mass but also increases the body's metabolic rate, burns body fat and supports sexual health. These testosterone-boosting herbs can be especially beneficial for athletes and bodybuilders to gain lean body mass, support healthy hormone function and promote training.
Axis-HT's GF-5 contains naturally occurring IGF (insulin like growth factors), FGF (fiberblast growth factors), NGF (nerve growth factors) and EPF (epidermal growth factors). IP6 is a natural substance found in the bran of brown rice. GF-5 and IP6 synergistically enhance hormonal balance, alleviate overtraining, promote immunity and decrease recovery time.
Magnesium and zinc are minerals used to support testosterone production and promote sleep. This combination of minerals promotes deep sleep, when the body's hormonal production is maximized.
Pros

Axis-HT combines natural testosterone boosters in one formula. It is designed for healthy male adults 18 years and older to support and enhance natural testosterone levels, lean muscle and libido.
Axis-HT has the following benefits:
Natural testosterone boosting herbs Tribulus, Eurycoma and Coleus promote healthy hormone function and muscle gain
Natural growth factors and IP6 enhance hormonal balance, immunity and recovery
Supports healthy libido
Magnesium and zinc support deep sleep
Cons
Axis-HT is only intended for adult males 18 years and older.
Tribulus may have a diuretic effect and may interact with other diuretic medications.
IP6 may interfere with iron absorption.
Women and people with pre-existing medical conditions or taking medication should not supplement with Axis-HT without consulting a physician.
Be aware that some drugs may interact with the nutrients in Axis-HT including:
Advair Diskus
Albuterol
Alendronate
Amiloride
Amphotericin B
Azthromycin
Aspirin
Azt
Benazepril
Benzamycin
Bile acid sequestrants
Cimetidine
Ciproloxacin
Cisplatin
Cycloserine
Cyclosporine
Calcium acetate
Captopril
Chemotherapy
Chlorhexidine
Cindamycin topical
Colestipol
Cyclophosphamide
Docetaxel
Doxycline
Digoxin
Docusate
Doxycycline
Ephedrine and pseudoephedrine
Epinephrine
Erythromycin
Estrogens (combined)
Folic acid
Famotidine
Felopidine
Fentanyl
Gemifloxacin
Gentamicin
Gimepride
Glipizide
Hydroxychloroquine
Isoniazid
Levofloxacin
Loop Diuretics
Lisinopril
Lotrel
Medroxyprogesterone
Metformin
Minocycline
Misoprostol
Mixed amphetamines
Methotrexate
Methyltestosterone
Metronidazole (vaginal)
Neomycin
Nitrofurantoin
Nizatidine
Ofloxacin
Oral contraceptives
Oral corticoseroids
Ofloxacin
Penicillamine
Quinidine
Quinolones
Quinapril
Ramipril
Risedronate
Salmeterol
Sotalol
Spironolactone
Sulfamethoxazole
Sodium fluoride
Topical corticosteroids
Tetracycline
Theophylline/aminophylline
Thiazide diuretics
Tobramycin
Triamterene
Trimethoprim
Valproic acid
Warfarin
Is it for you?
Axis-HT may be beneficial if you're an adult male and want to support testosterone levels, libido and muscle growth.
However, women and people with pre-existing medical conditions or taking medication should not supplement with Axis-HT without consulting a physician.

BSN's Axis-HT Nutrition Facts

Serving Size: 2 tablets
Servings Per Container: 60

---

Amount Per Serving
Daily Value

---

Zinc (Monomethionine and Aspartate)
10 mg
67%
StAR-P2
2,238 mg
*
Magnesuim (Magnesium Aspartate)
150 mg
38%
*percent Daily Values are based on a 2,000 calorie diet.
*These statements have not been evaluated by the Food and Drug Administration. This product is not intended to diagnose, treat, cure or prevent any disease.
Directions
Take 2 capsules 3 times per day. Take one dose in the morning with breakfast, the second with lunch and the third with your last meal.
For best results, take for at least 6 weeks. Do not exceed 12 weeks of continuous use.
Keep out of reach of children and pets.