Apex's Max Protein Drink - Product Review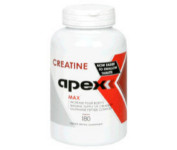 Where To Buy
Bodybuilding.com
link

Description
Apex's Max Protein Drink provides a balanced ratio of protein/carbohydrate/fat for pre- and post-workout liquid meals. This high performance drink mix includes high quality protein, taurine, glutamine, MCTs (medium chain triglycerides), AKG (alpha-ketoglutarate) and essential vitamins and minerals. Max Protein Drink provides an ideal blend of nutrients to promote lean muscle gain, energy and recovery.
Max Protein Drink features 41 gm of fast-release and slow-release milk protein isolates, whey protein concentrates and calcium caseinates. Whey protein is a major protein in milk containing an optimal concentration of amino acids. Calcium caseinate is synthesized from dried skim milk and breaks down at a slower rate than whey protein. Together they promote a sustained flow of vital amino acids to support positive nitrogen retention (stored muscle protein) for optimal muscle gain, repair and recovery.
Conditionally essential amino acid glutamine and AKG help prevent muscle tissue breakdown and support muscle repair. The amino acid taurine enhances energy and helps maintain healthy blood sugar and insulin levels. Beneficial fats such as MCTs synergistically promote fat metabolism and maximize lean muscle. MCTs are more likely burned as muscle energy than stored as body fat.

Pros

Apex's Max Protein Drink is a pre- and post-workout drink mix. It is laboratory tested with guaranteed quality. Max Protein Drink features a chocolate flavor and is available in 3.3 lb containers.
Apex's Max Protein Drink has the following benefits:
41 grams of protein promote positive nitrogen retention and muscle gain
Glutamine and AKG supports muscle repair and recovery
Taurine enhances energy and healthy blood sugar levels
MCTs maximize lean muscle and fat metabolism


Cons

People who are allergic to dairy products should avoid whey protein.
Max Protein Drink contains the artificial sweetener aspartame. People with PKU (phenylketonuria) must avoid aspartame (contains phenylalanine).

People with pre-existing medical conditions such as PKU or taking medication should not supplement with Max Protein Drink without consulting a physician.

Be aware that some drugs may interact with Max Protein Drink including:
Amiodarone
Anthralin
Aspirin
AZT
Anticonvulsants
Atorvastatin
Albuterol
Alendronate
Amiloride
Amphotericin B
Azthromycin
Benzamycin
Bile Acid Sequestrants
Chemotherapy
Cisplatin
Colestipol
Cyclophosphamide
Cimetidine
Ciproloxacin
Cisplatin
Cycloserine
Cyclosporine
Digoxin
Docusate
Doxycycline
Dapsone
Docetaxel
Doxorubicin
Epinephrine
Erythromycin
Estrogens (combined)
Famotidine
Felopidine
Fentanyl
Fenofibrate
Fluorouracil
Fluvastatin
Gabapentin
Gemfibrozil
Glyburide
Griseofulvin
Gemifloxacin
Gentamicin
Gimepride
Glipizide
Hydroxychloroquine
Haloperidol
HMG-CoA Reductase Inhibitors (statins)
Isotretinoin
Insulin
Isoniazid
Isotretinoin
Levofloxacin
Loop Diuretics
Lindane
Lovastatin
Medoxyproquesterone
Methotrexate
Methyltestosterone
Mineral oil
Minocycline
Metformin
Misoprostol
Mixed amphetamines
Neomycin
Nitrofurantoin
Nizatidine
Oral contraceptives
Oral corticosteroids
Orlistat
Ofloxacin
Paclitaxel
Phenobarbital
Pravastatin
Pentoxyfyline
Risperidone
Quinidine
Quinolones
Risedronate
Sotalol
Spironolactone
Sulfamethoxazole
Sodium fluoride
Simvastatin
Tetracycline
Theophylline/aminophylline
Thiazide diuretics
Tobramycin
Triamterene
Trimethoprim
Thioridazine
Tretinoin
Valproic acid
Warfarin



Is it for you?
If you're looking for a high performance drink mix for pre- and post-workout liquid meals, Max Protein Drink may be for you.
However, people with pre-existing medical conditions such as PKU or taking medication should not supplement with Max Protein Drink without consulting a physician.


Dosage and Directions
Mix two scoops into 8 ounces of cold skim milk or water. Stir or blend until dissolved. Drink before or after workouts or as a meal replacement.
For a rich milkshake effect, add crushed ice and/or your favorite fruit. Be creative, but count your calories.