ABB's Carbo Force - Product Review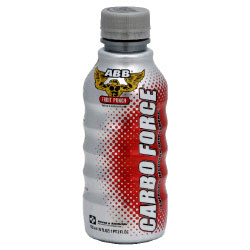 Description
ABB's Carbo Force delivers 110 grams carbohydrates for muscle glycogen replenishment and maximum post-workout recovery. This innovative post-workout drink also features a proprietary CarboMet Blend including glycocyamine, vanadyl sulfate and betaine for lean muscle gains. Glycocyamine is a potent form of creatine that maximizes creatine concentrations in muscles. Betaine is a vitamin derived from choline and vanadryl sulfate (or vanadium) is a trace mineral that regulates sugar levels in the blood.
After intense workouts, glycogen stores are depleted in the muscle. Glycogen is the storage form of carbohydrates and an essential fuel used for energy production. Carbo Force includes monosaccharide and disaccharide carbohydrates for immediate and sustained energy, mental and physical fuel and muscle glycogen recovery.
Creatine is a naturally occurring metabolite found in red muscle tissue that helps provide energy to muscles. Numerous studies suggest that creatine supplementation can increase muscle mass, energy, strength, endurance, recovery and fat loss. Carbo Force's glycocyamine gives creatine-like benefits without "creatine bloat" side effects.
Betaine Anhydrous is a versatile vitamin used in the body for essential body functions. Betaine has been shown to be lipotropic (fat loss causing) by promoting fat burning as fuel for energy. This potent nutrient also lowers homocysteine levels. Homocysteine is a metabolite that can damage blood vessels and is a cardiac risk marker.
Pros

ABB's exclusive "Absorption Technology" includes rice oligodextrins and glycerin to maximize nutrient absorption and support proper hydration. Carbo Force is a natural post-workout recovery drink containing over 100 grams of carbs and an exclusive glycocyamine blend for lean muscle gain and recovery.
The nutrients in Carbo Force have numerous benefits including:
Replenishes muscle glycogen
Promotes muscle recovery after workouts
Creatine benefits without the side effects
Enhances lean muscle gain
Boosts energy levels
Cons
Glycocyamine can increase homocysteine levels in the blood. At least four times the amount of betaine must be taken to counteract this side effect. ABB does not list the individual concentrations of glycocyamine and betaine in Carbo Force.
Vanadryl sulfate in large doses (greater than 10 mcg per day) may be toxic. Mild side effects may include diarrhea and loss of appetite.
Pregnant or lactating women and those with pre-existing medical conditions or taking medication should not supplement with Carbo Force without consulting a physician.
Is it for you?
If you're looking for a convenient post-workout drink to promote lean muscle gains while supporting recovery, Carbo Force can help you obtain optimum results.
However, pregnant or lactating women and those with pre-existing medical conditions or taking medication should not supplement with Carbo Force without consulting a physician.
Directions
For post-workout recovery, drink one bottle immediately after your workout.
For pre-workout energy, drink one bottle 20 minutes before exercise. Continue sipping during your workout. Store in a cool dry place. Shake well before using. Refrigerate after opening.
ABB's Carbo Force Nutrition Facts

Serving Size: 1 bottle
Servings Per Container: 1

---

Amount Per Serving
Daily Value

---

Calories
400
*
Sodium
110 mg
5%
Total Carbohydrate
100 g
33%
Sugars
15 g
*
Phosphorous
140 mg
14%
Glycerol
5 g
*
Potassium (as Gluconate, Phosphate)
190 mg
5%
*percent Daily Values are based on a 2,000 calorie diet.
*These statements have not been evaluated by the Food and Drug Administration. This product is not intended to diagnose, treat, cure or prevent any disease.